Bahamian Brewery and Beverage Company and Sands Beer are very proud to once again be the official beer of this year's St. Valentine Regatta which is scheduled for February 14th and 15th at Montagu Beach.
On Saturday, February 14th the Brewery boats, including the Sands, Sands Light, Strong Back and High Rock will participate in the E-Class Regatta. Then on Sunday, February 15th, the 2015 sculling season will begin at 5pm with the first sculling race. This is the 4th year of the sculling races and Bahamian Brewery and Beverage is extremely proud to have revitalised this truly Bahamian sport.
The winner of the St. Valentine sculling race will be declared the Sands Man in the Boat sculling champion for New Providence, and will represent New Providence later in the year at the Sands Man in the Boat championship. Last year's winner of the St. Valentine sculling race was Dennis Fox, so new scullers are encouraged to come challenge him for the win.
In addition to the coveted trophy, the first place winner will receive ten cases of Sands beer, the second place winner will receive eight cases of Sands beer and the third winner will receive six cases of Sands beer.
Bahamian Brewery and Beverage invites all regatta fans to come to Montagu Beach to enjoy a truly Bahamian good time, with sloop sailing at its best, sculling, which is a truly Bahamian event, and truly Bahamian beer and drink specials all weekend long.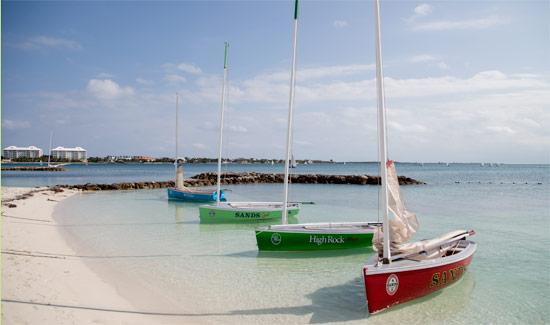 Barefoot Marketing
Brewery INFO:
Grand Bahama's "Truly Bahamian" brewery opened in 2007 with the launch of its first beer SANDS. The 20-acre brewery is located at the intersection of Queen's Highway and Grand Bahama Way and is a 100% Bahamian owned business. The brewery also produces Triple B, a natural malt drink, sold via Asa H Pritchard Distributors, as well as STRONG BACK, SANDS LIGHT, HIGH ROCK and BUSH CRACK. Bahamian Brewery and Beverage is a national brand with a capital-based distribution centre at Nassau Street North, which opened in 2012, and 7 Jimmy's Wines & Sprits locations throughout The Bahamas. All Bahamian Brewery & Beverage products are also available at Bristol Wines & Spirits locations, Simms Brothers, Jimmy's Liquor Stores and truly Bahamian restaurants and bars.