You can spoil your loved one with chocolate and spice your chicken souse with onions, but if you care about your pet, make sure you never feed them either.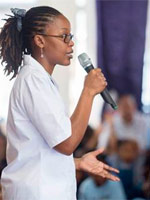 That was part of the message delivered by Bahamas Veterinary Association Dr. Bridgette Johnson December 18 when she addressed more than 100 students at St. Anne's School.
Dr. Johnson's appearance was part of a campaign by the Washington, DC-based Pet Food Institute to increase awareness about the importance of proper diet and care for dogs, cats and other domestic pets. Nearly every student at the school knew bones were bad for dogs, cats love tuna and every pet should be taken to a vet early in life for shots.
What they didn't know was why or why foods like chocolate, onions and grapes are bad for dogs.
"Dogs can't absorb chocolate into their systems like humans can," said Dr. Johnson, whose clinic is on Prince Charles Drive. "It causes the dog's heart rate to get too high and their hearts can stop. It can also cause vomiting, seizures and diarrhea and in a worst case scenario, even death." While dark chocolate is healthier for humans, it's the worst for dogs.
"The darker the chocolate, the more harmful it is to the animal," said Dr. Johnson.
Questions flew at Dr. Johnson. How do you keep a dog comfortable? How do you say hi to an animal? Can you feed fruit to dogs?
The answers surprised some. "No grapes or raisins. You can feed them oranges, watermelon and apples but no seeds," said the vet who stressed the best diet of all was proper pet food from the food store, a pet shop or feed supply. As for what to do if you see someone feeding a dog a bone, a student shouted "You tell them to stop!"
The Pet Food Institute's campaign is aimed at teaching proper pet care in four countries in the region including The Bahamas, Turks & Caicos, Trinidad and Jamaica. Similar programs have provided results in Japan and Mexico with greater understanding of animals' needs and well-being.
Diane Phillips & Associates
Photos: Bahamas Visual Services for DPA
Top: Show of hands – Cameron Smith, Vanessa Mackey, Margaret Hinsey and Aysia Dorsett, eager Kindergarten students at St. Anne's rushed to ask questions and offer answers about caring for pets when Bahamas Veterinary Association President Dr. Bridgette Johnson visited the school as part of a Pet Food Institute campaign to improve pet care. 
Side: The doctor is in the house – Bahamas Veterinary Association President Dr. Bridgette Johnson addresses about 100 students at her alma mater, St. Anne's School, this week, sharing information about pet care.
Bottom: Don't go yet – St. Anne's students were so interested to learn more about how to take care of their pets they followed Bahamas Veterinary Association President Dr. Bridgette Johnson out to the parking lot, still asking questions.