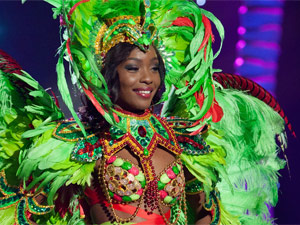 It was a frightening few minutes, but Miss Universe Bahamas Tomii Culmer has rallied from a fainting spell that occurred while she rehearsed for the biggest performance of her life – the Miss Universe Pageant, set for Sunday January 25 in Miami, Florida.
Miss Culmer, who has been competing for just under three weeks, was quickly seen by Miss Universe Organization doctors who gave her the all clear to continue in the pageant after examining her. News of her fainting incident quickly spread on social media.
"I'm okay now", she said, reassuring her concerned pageant team. "The doctor said it was probably as a result of me standing for a long time with my knees locked, not drinking sufficient water, and fatigue."
"The Bahamas has never advanced to the semifinals of the Miss Universe pageant", said MBO President Michelle Malcolm, "and a lot of people are putting their hopes on her to break that spell and make history on Sunday night. I have to say she's been holding her own these past three weeks. She's a trooper though, and has rallied back to her old self."
Miss Culmer spent the day in rehearsals today. Meanwhile, her national costume, The Green Parrot designed by Apryl Burrows, was featured on ET TV as one of the "wow" costumes of the pageant during the broadcast of the show on Thursday evening.
Well-wishing Bahamians are invited to rally behind Tomii by sending her positive vibes on the Miss Bahamas Organization's Facebook page. Or, they can visit her official Miss Universe Bahamas page and leave an uplifting message there.