On Monday, March 23, U.S. Chargé d'Affaires Lisa Johnson, accompanied by the Bureau of International Narcotics and Law Enforcement's Deputy Director for Western Hemisphere Programs Susan Snyder and other senior U.S. Government officials, participated in a formal handover ceremony of a state-of-the-art, fully-equipped 41' Apostle Interceptor police vessel to the Royal Bahamas Police Force (RBPF) at the Marine Support Services Branch on Bay Street.  The Bahamas Government delegation was led by Minister of National Security Dr. Bernard Nottage, Permanent Secretary in the Ministry of National Security Carl Smith and Acting Police Commissioner Anthony Ferguson.
This latest donation by the United States Embassy valued at more than $668,000 will increase the operational capacity of the RBPF to participate in interdiction operations under Operation Bahamas, Turks and Caicos (OPBAT).  The vessel, like the one dedicated on Grand Bahama in 2013, was built from the ground-up according to the requirements and specifications outlined by the RBPF.

In her remarks at the ceremony, Chargé Johnson touted her expectations that the donation will improve OPBAT's established track record of narcotics seizures.  "With the addition of this advanced marine vessel, I expect more record-breaking years," she said.  "At the very least, we know this plus-up of marine resources will act as a deterrent to drug traffickers."
Minister Nottage noted the importance of the acquisition of the new vessel in further enhancing the operational capabilities of the RBPF.  "This commissioning ceremony serves as a testimony to the Governments of The Bahamas and the United States of America's commitment to suppress and interdict illicit drugs and psychotropic substances as well as minimizing the impact of human and weapon smuggling in our archipelago," he said.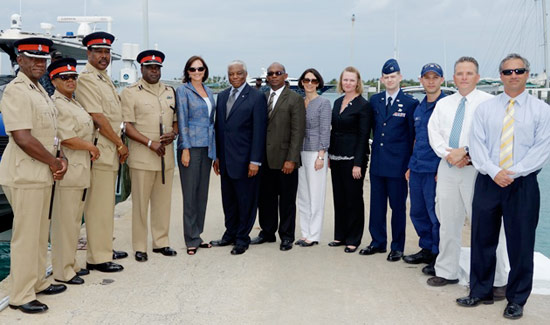 The ceremony concluded with U.S. and Bahamian officials participating in a sea tour onboard the new vessel in Nassau Harbor.  The new SAFE Boats International vessel transferred by the U.S. Embassy's International Narcotics and Law Enforcement Affairs Section was made possible through the Caribbean Security Initiative (CBSI).  CBSI is a shared security partnership between the United States and the Caribbean aimed at increasing citizen safety throughout the Caribbean by substantially reducing illicit trafficking, increasing public safety and security, and promoting social justice.