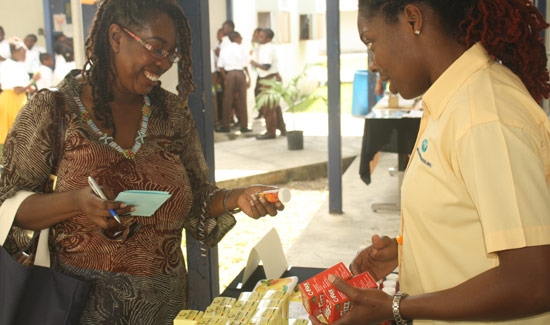 Making healthy choices was the focus of a recent health and wellness fair held by the Bahamas Technical and Vocational Institute (BTVI), attracting scores of students and professionals.
The lively fair had health, fitness and beauty all rolled into one as 28 exhibitors provided information, samples and demonstrations of their products and/or services.
According to BTVI's Dean of Student Affairs, Racquel Bethel, the approach to wellness is holistic as January's focus was on spiritual wellness, while February was financial fitness and matters of the heart, topped off with physical, mental and emotional health during this month.
"Wellness is more than physical, so we're excited that our community partners are supporting us in recognition that wellness is important.  This is their contribution to BTVI in raising healthy and positive citizens.  Their presence proves they value our contribution to society," she said.
Meanwhile, BTVI's Acting President, Dr. Iva Dahl, who officially opened the 4th annual fair, encouraged attendees to take advantage of what was available, particularly the practical tips presented by participants.
"Please take the information seriously.  We want you to live long lives without major complications," she emphasized.
Doris Johnson Senior High's Guidance Coordinator, Phyllis Woodside said bringing 25 of the school's 11th graders to the fair was opportune as her department's focus this term is health and wellness.
"We want them to be healthy community and global citizens.  We want them eating right. We don't want them putting harmful substances in their bodies. We want them to be highly functional and cognizant of what is happening in their lives," said Ms. Woodside.
Echoing Ms. Woodside's sentiments about the fair coming at the right time was Hands for Hunger's Volunteer Coordinator, Sunny Dhillon who was pleased to represent the non-government organization (NGO).
"Any opportunity to spread awareness is a good opportunity. We have a captive audience here today, from youth to professionals.  Any chance to do things like this is beneficial," he stated.
A number of fairgoers signed up to volunteer with the organization, which Mr. Dhillon was thrilled about.  He said that in 2014, over 400 volunteers contributed over 3,000 hours to Hands for Hunger.
The fair, moderated by ZNS radio personality Prime Time Deon, offered health education, wellness and community resource information, healthy snacks and giveaways.
BTVI Office Administration major, Johnniqua Culmer said she soaked in what was presented, particularly as she has witnessed young people making unhealthy choices.
"This is an excellent venue to be informed," said the 18-year-old, "It shows that BTVI is beyond just educating us about our future careers because without a healthy body and mind, we really can't pursue those goals anyhow," she concluded.
Bahamas Technical and Vocational Institute (BTVI)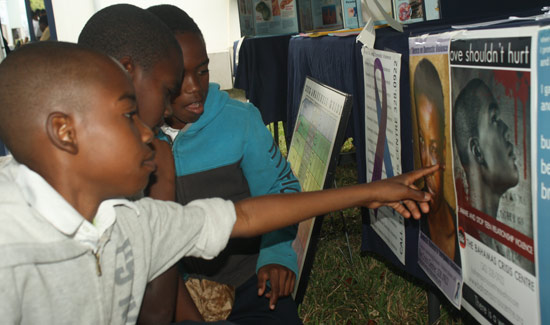 Captions:
Doris Johnson Senior High School's Guidance Coordinator, Phyllis Woodside learns more about Vitamin C from Commonwealth Drugs sales representative, Alicia Smith.
Uriah McPhee Primary School's steel band, which consists of fourth through sixth graders, thrilled the crowd.
Junior school students participate in a watermelon eating contest while attending BTVI's health and wellness fair
Sensei Clement Eneas puts on a mix martial arts demonstration with the help of a Defence Force Officer.
A domestic violence poster piques the interest of young boys of Uriah McPhee Primary during BTVI's health and wellness fair.