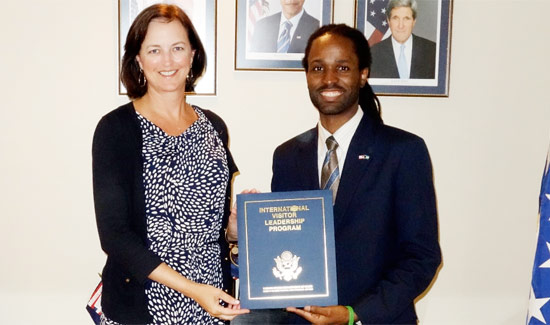 On Monday, March 16, youth activist, policy adviser and Bahamian attorney Tavarrie Smith paid a courtesy call on U.S. Chargé d'Affaires Lisa Johnson to discuss his recent participation in the U.S. State Department sponsored International Visitor Leadership Program (IVLP) focused on "Children in the U.S. Justice System."
Mr. Smith, an attorney at Messrs. Bostwick & Bostwick Law Chambers, participated in the professional exchange held in the United States from January 26 – February 6, 2015.  Designed for juvenile judges, youth and child rights lawyers, social workers, child justice workers and Hague convention central authorities' officers, the program examined the U.S. experience of children in the American justice system and the various agencies and services that work with juveniles.
During the group visit with 17 participants from 16 countries, Mr. Smith traveled to several U.S. cities including Washington, D.C., Dallas/Fort Worth and Seattle in order to explore best practices within the American juvenile legal system and its counterparts.
The participants attended a number of lectures and presentations where they explored private, local, state, and federal government initiatives and programs aimed at addressing the unique relationship between children and the law.
They also examined various topics like child welfare, juvenile law, foster care, child abductions and adoptions, conflict resolution, child exploitation, children's law and policies, social services, child advocacy, treatment programs and services at juvenile detention facilities, and the benefits of peer and specialized courts for children.
Throughout the exchange, the group also met with representatives from diverse agencies including the U.S. Department of Justice, U.S. Department of State, U.S. Hague Court, federal courts, juvenile district courts, juvenile detention and treatment facilities, alternative education programs, law clinics, district attorneys, teen courts, state patrol units, child advocacy centers and dispute resolution centers in order to learn about the critical role agencies in the United States play in protecting children in the U.S. justice system.
To continue the dialogue on the juvenile justice system and children's rights, the American Corner will partner with Mr. Smith to facilitate a lecture in May focused on "The Bahamian Juvenile Justice System: Real Problems vs. Real Solutions."  Details for the event will be announced soon.  Admission will be free and open to the general public.
Caption: U.S. Chargé d'Affaires Lisa Johnson with Bahamian attorney Tavarrie Smith.