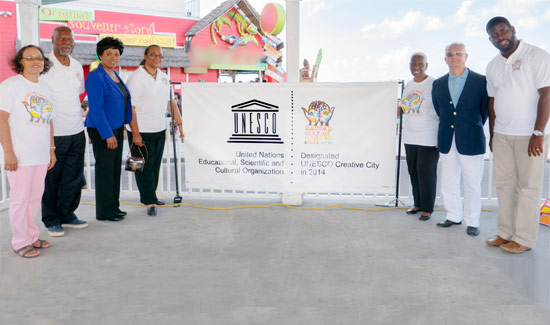 Creative Nassau (CN), along with members of the Downtown Nassau Partnership (DNP), proudly unveiled the Official UNESCO Creative City Logo for the City of Nassau. Our capital obtained the designation "Creative City of Crafts and Folk Arts" on December 1, 2014 from Director General of UNESCO, Irina Bokova, who welcomed the City of Nassau as a member of the prestigious Creative Cities Network comprising 69 cities all around the world.
The brief ceremony was held in Pompey Square as a part of the monthly Creative Nassau Market and during the launching of Bahamas Revisited, a new Bahamian excursion company headed by young entrepreneur Steven Cartwright.
"This is another proud moment for Creative Nassau's members: Dr Nicolette Bethel, John Cox, Dr Davidson Hepburn, Patricia Glinton-Meicholas, Paulette Mortimer, Quentin 'Barabbas' and Maureen Woodside, Rosemary Hanna, Royann Dean, Sonia Farmer, Vaughn Roberts and Yvette Rolle and myself," stated Co-Founder Pam Burnside, "and an amazing accomplishment for the City of Nassau as well as for all of the citizens of The Bahamas who can benefit from  placing a stronger focus on creativity in The Bahamas tourism product.
Mrs Burnside noted that a greater focus on Creative Tourism would place Bahamian creativity at center stage and foster a number of positive social and economic developments. "We, the members of Creative Nassau, believe strongly that pursuing the creative tourism model would enhance awareness, appreciation and celebration of our arts, culture and heritage, encourage entrepreneurship and pride in what we do and produce, develop self-empowerment and employment at all economic and social levels and greatly contribute to increasing Bahamian exports and diversifying and strengthening our economy overall."
Ms. Vernice Walkine, Co-Chair of the DNP remarked: "These opportunities to distinguish our city as a destination of more than Sun, Sand and Sea are crucial as we create a national identity. The history of crafts and folk art are a tremendous way to continue to have our story told and shared. I congratulate the team who has worked tremendously to receive this designation for the City of Nassau."
Mr. Charles Klonaris, another DNP Co-Chair added: "As the city of Nassau goes through our revitalization, it is important that we acknowledge the significance of partnerships across the world, and how we must leverage them as we become a better city. We must also be reminded of the aspects of our country that are unique. This recognition by UNESCO showcases that our city is a strong destination for Crafts and Folk Art. It has been a part of our history, and will be a significant part of our future."
"The success Creative Nassau has enjoyed to date is a fitting example of the power of the people. We, the people can make positive things happen without government assistance if we believe in ourselves, insist on honesty and excellence and continue to work together as a community to make things happen. We applaud the amazing artisans and entrepreneurs who joined us for the logo unveiling today, and the thousands of others in our country, as we carry out our mission statement to "promote and celebrate Bahamian Art, Culture and Heritage from the Inside Out," Mrs Burnside said.
The Creative Nassau team also thanked their partners for the six year journey, which led to the award of the UNESCO designation: His Excellency, Sir Arthur Foulkes, Dr Leon Higgs of the Bahamas National Commission for UNESCO, our Mayor, Gevon Moss and the members of the Downtown Nassau Partnership, Silbert Ferguson of The Junkanoo Corporation of New Providence (JCNP) as well as those fellow Members of the Creative Cities Network who endorsed their application from the Cities of Santa Fe, New Mexico and Paducah, Kentucky U.S.A.; Kanazawa, Japan; Aswan, Egypt; Fabriano, Italy; and Icheon, Korea, along with their many supporters who have constantly encouraged and assisted them in their efforts, particularly Clare Sands of The Plait Lady and Beverly Taylor of Harl Taylor BAG. Special mention was made of CN sponsors Cable Bahamas Cares Foundation, The Counsellors Ltd, Kevin Turnquest of Vaudio Productions, and Charles Carter of Island FM 102.9.
For more information and to keep abreast of Creative Nassau's development plans and activities, visit their website www.creativenassau.com and facebook page and tune in to the Creative Nassau weekly Radio Show on Tuesdays at 7-7.30 pm on Island FM 102.9.
Photo courtesy of P. Neko Meicholas
Caption: At the official UNESCO logo unveiling ceremony in Pompey Square (l-r) Pam Burnside, Dr Davidson Hepburn, Vernice Walkine, Patricia Glinton-Meicholas, Rosemary Hanna, Charles Klonaris, Gevon Moss