The Bahamas Reef Environment Educational Foundation (BREEF) today announced a grant from The Moore Bahamas Foundation (MBF) to hire Ms Chantal Curtis as its new Environmental Educator. Her combined experiences in teaching and forensic science make her a valuable asset to the BREEF team as it seeks to expand citizen science leadership in its coastal field studies and underwater activities.
The latest staff expansion comes as BREEF continues to successfully lead local marine conservation efforts around The Bahamas. BREEF's education initiatives provide public and private school children with hands-on opportunities to learn about the Bahamian marine environment. The new environmental educator position and many ongoing education programmes are made possible by grants from MBF, local affiliate of The Moore Charitable Foundation founded by Louis Bacon in 1992.
Left: Louis Bacon, Founder of The Moore Charitable Foundation
Photo by Yann Dandois
"BREEF is proud to add a uniquely qualified environmental educator to work with the thousands of children participating in our field trips to marine and coastal ecosystems, thanks to the continued commitment from our long-standing partner, The Moore Bahamas Foundation," said Casuarina McKinney-Lambert, Executive Director of Bahamas Reef Environment Educational Foundation. "We continue to realize our mission by providing students of different ages and backgrounds the opportunity to learn more about why marine conservation is important and to see how we can work together for positive change."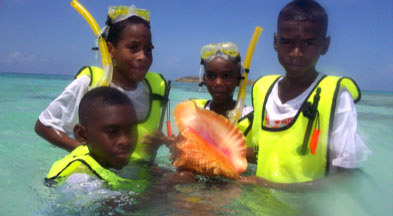 Right: Kids at the BREEF Eleuthera Sea Camp learning about conch conservation.
Efforts to educate future generations about the vital Bahamian marine environment range from summer sea camps, with activities such as snorkeling, to outreach and education about sharks in The Bahamas, to virtual coral reef field trips. Additionally, BREEF's marine conservation workshops have trained over 700 teachers from islands across The Bahamas. These educators are now back in their classrooms sharing what they learned with their students and colleagues.
Throughout the year, BREEF offers classroom presentations and field trips for school groups to enhance instruction of marine conservation topics now included in national curricula. In 2014, BREEF programs allowed over 2,000 of students to experience the marine environment of The Bahamas. As demand for field trips has increased in recent years, support from The Moore Bahamas Foundation has allowed more students to enjoy this opportunity annually.
"The high demand for BREEF field trips highlights the fact that Bahamian students care about their environment and they value experiences that create an emotional connection to the water, plants and wildlife around them," said Ann Colley, Executive Director and Vice President of The Moore Bahamas Foundation. "We are grateful for the opportunity to work with BREEF and support these one-of-a-kind learning experiences for the children of The Bahamas, and we know that Chantal Curtis will be a vital part of this good work."
The hands-on learning approach that BREEF emphasizes is also showcased through the Bahamas Environmental Steward (BES) Scholars youth mentorship programme. In collaboration with The Cape Eleuthera Island School, BREEF provides BES Scholars with the unique opportunity to become involved in marine research, including shark and turtle tagging activities.

BREEF Eco-Summit, 70 young environmental leaders learning and sharing about conservation.
In recent years BREEF has been able to expand and enhance its marine science and field studies programmes, while also diversifying options for students at both public and private schools. In 2009, BREEF launched the Eco-Schools (Bahamas) Programme. Eco-Schools is the largest sustainable schools programme in the world, operating in over 55 countries.
The Moore Bahamas Foundation and BREEF's successful partnership began in 2000, and most recently, MBF commended BREEF's campaign that helped influence new legislation that ensures a fixed closed fishing season for the endangered Nassau grouper.
"When we see the joy and wonder on the faces of the students in our programmes, we know that we are doing meaningful work for the future of The Bahamas and our precious waters," McKinney-Lambert said. "We are excited to welcome Ms Curtis to BREEF and we look forward to expanding our education efforts and continuing to promote the much needed conservation of our Bahamian marine environment."
Chantal Curtis will be coordinating and implementing coastal field trips to Jaws Beach, Bonefish pond and other key places around the island as part of ongoing National Coastal Awareness Month activities. She will also collaborate with Dr Demian Chapman and Mr Mark Bond for shark education in May. Chantal first got involved with BREEF as a Teacher Training Workshop participant in 2014.
This summer, the BREEF team will be particularly busy with summer sea camps on New Providence, Eleuthera, and San Salvador, and with a Marine Conservation Teacher Training Workshop on San Salvador.