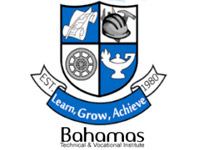 Chairman of the Bahamas Technical and Vocational Institute (BTVI), Felix Stubbs, wishes to announce that a Presidential Search Committee has been appointed by the institution's board to find a president, pursuant to Section 7 of the BTVI Act 2010.
The individual will replace Dr. Iva Dahl, who has headed the institution for nearly 10 years and is expected to be in place for the 2015/2016 school year.
"In the interest of transparency, an open search will be conducted to field a wide selection of viable candidates," said Mr. Stubbs.
The Presidential Search Committee is comprised of stakeholders from across the BTVI community, inclusive of:
Mrs. Rubie Nottage, Chairperson and Board Director;
Mrs. Thelma Grimes, Board Director;
Mr. Kevin Basden, Board Director;
Mrs. Myriam Stapleton, BTVI Alumni Representative;
Dr. Ted Sofianos, External Professional Educator Representative;
Mrs. Alicia Thompson, BTVI Administration Representative;
Mr. Charles Kemp, BTVI Instructor representative and
Ms. Donette Sinclair, Board Secretary
A presidential profile will outline the desired qualifications and qualities of the prospective president and will be the benchmark for the ideal candidate. That profile will be published shortly via BTVI's website and newspaper advertisements.
"The presidential profile will act as a guide as we seek a Bahamian candidate of excellence. We're hoping that a large pool of candidates will be attracted to apply for the position," said Mrs. Nottage.
The Presidential Search Committee will compile a preliminary list of candidates from which a shortlist will be generated.  The top three to four candidates will be invited to be interviewed by the Search Committee.  Subsequently, the Committee will recommend the top candidate to the BTVI Board for appointment by the Governor-General as President of the Institute pursuant to the BTVI Act, 2010.