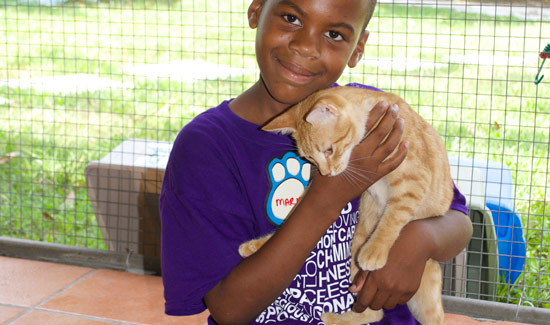 Baark! (Bahamas Alliance for Animal Rights and Kindness) have been busy so far in 2015; Fundraising at their exciting new 'Carnivale Night' event and putting the money to work with their spay/neuter and education projects, creating cleaner, safer and more responsible communities in the Bahamas.
After being an integral part of Operation Potcat in January/February where 406 cats were spayed/neutered in just 5 days, Baark! has continued the important work to reduce the number of homeless animals on our streets through sterilization programs such as TNR (Trap-Neuter-Return) and providing subsidies for low-income families with owned pets.
To reduce the risks of Canine Distemper which was widespread in 2014, Baark! is also providing free vaccinations for dogs before their spay/neuter surgeries.
CLICK POSTERS TO ENLARGE
Education on animal welfare comes in tandem with the spay/neuter and is of utmost importance to the program's success. Baark! has already held two interactive kids camps at the Bahamas Humane Society, the first for 14 children from Gambier Primary School, ranging in age from 4 to 11 and the second for 23 Grade Three students from Adelaide Primary School.
The youngsters learn about having compassion and respect for animals and how to be responsible pet owners. This is done  through classroom-based activities, hands-on practical encounters with the shelter animals and question and answer sessions with Inspectors and staff.
"It is hoped by running these camps we are creating and cultivating  animal ambassadors in the various Nassau communities" said education co-ordinator Shelley Hardman "With all the cruelty and neglect that we witness on a regular basis, not just towards animals but also amongst people,  we are trying to create a future generation of compassionate individuals who are capable of great empathy toward their fellow Bahamians and the animals they share this beautiful Island with."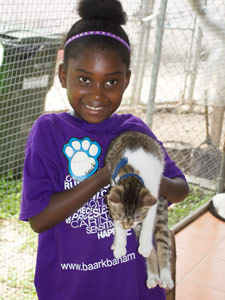 Baark! does not receive any government funding so rely solely on donations from supporters and their own fundraising efforts. They raised an incredible $28,000 at the first 'Carnivale Night' held at 1er Cru on April 17th.
Attendees enjoyed circus style stilt walking and juggling performances, delicious food, music from Jukebox Live Band an array of prize winning games including the fastest inflatable obstacle course time and the very popular slowest bike race". The event was sponsored by Think Simple, Odyssey Aviation, Purina, Graham Real Estate, Happy Pets Animal Hospital and Bahamar Believe Foundation.
Baark's goal each year is to provide 1,000 free or subsidized spay/neuters. "Last year we were thrilled to exceed our goal and completed 1121 surgeries, 755 dogs and 366 cats." said Baark! President Laura Kimble "with all of our programs in place for 2015 we are well on our way to reaching this goal once again".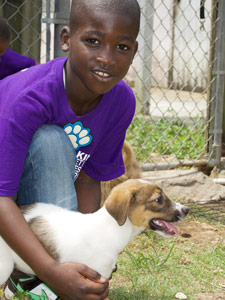 The charity is holding two spay/neuter promotions for low-income families in May, one each for cats and dogs.  Dogs can be sterilized for a co-pay of just $10 each and cats can be done for free if bought to the Bahamas Humane Society between 8-10am on Sunday May 17th. "We hope people who really need help will come forward with their pets and take advantage of these offers" added Ms Kimble.
To make an appointment or for more information people can call Baark! on 427-SPAY (7729).
Baark! (Bahamas Alliance for Animal Rights and Kindness)
Below are photos from Baark's Carnivale Night: