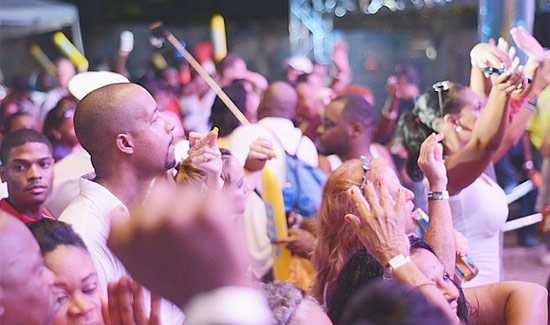 Every time I think of some of the utterances of the certain members of this government, the word 'Ungawa' comes to mind.
There is a story about a politician who travelled to Africa and was giving a rousing speech to a local gathering. As he promised the villagers all manner of grandiose schemes whilst also pledging to develop the land and to cut down the trees, the villagers would periodically shout out: "Ungawa! Ungawa!" Of course, the politician thought that he was being praised and so he continued on his rant.
Once the speech was done, the visiting politician asked the elders to give him a tour of the village and they did. At that time, they came across some prized livestock and, as they approached the pens where they were held, the elders turned to the politician and advised him to "be careful not to step in the ungawa!"
Indeed, when one considers all that is happening around us today and the statements of some of our so-called leaders, Bahamians must be daily throwing items at their television and radio sets and exclaiming (in our own special ways): "Ungawa!"
Let me be honest. I attended the Bahamas Junkanoo Carnival festivities on Friday night and I had a super-duper time. That said, whilst Baha Men's music was good (great musicians), they overstayed their welcome and were being booed off of the stage at intervals. I love Bahamian music but somehow Baha Men seem to have become confused, frustrating their audience and seemingly believing themselves to be the headliners.
I wondered out loud if they realised that Machel Montano was the headliner and that people were anxiously awaiting his arrival and, after an exhaustingly long set, impatiently hoping that they would wrap up and exit stage left (or right). For some reason or other though, they didn't seem to feel that the energy of the crowd had dissipated.
Having observed Friday's crowd first-hand, I can now appreciate why the government wanted a headlining act – at least for this first carnival – who could grab people's attention and rock a crowd. Machel Montano did just that. The vibes were off the charts. It felt good.
Don't get me wrong, I love Bahamian music (Ronnie B, Phil Stubbs … the list goes on and on). But Machel was the man on Friday … he performed "like ah boss".
That said, when one is paying $50 for a VIP ticket, one would expect that the VIP area is more than a space on open ground with barricades around it. VIPs should feel a little more special than that and I, for one, would pay more to any promoter if to be in VIP truly makes one feel like a "very important person" who is afforded a higher level of comfort and special privileges, not merely standing inside a barricade. Frankly, the real VIPs were in the BTC skyboxes, boxes that only politicians, BTC officials and certain other folk seemed to have access to as those tickets were reserved and meted out among them. Even at the carnival festivities, elitism raised its ugly head!
Whilst the carnival was well attended, I do not think that the government should be over the moon. No new money was injected into the economy – at least not on the scale that they may have hoped. When one thinks of carnival in Trinidad and Tobago, we see throngs of visitors from throughout the Caribbean, the Americas and Europe.
Can someone show me the empirical data to backup the claim of the chairman of the Bahamas National Festival Commission, Paul Major, that the three-day event last weekend would yield some $50m?
I think that Mr Major and others are dealing in voodoo economics, pulling figures out of thin air. I am not convinced that the carnival festivities would have any big impact on our Gross Domestic Product (GDP), especially when one considers that the money being spent was already being circulated in the economy. Are we now counting extra sales at fuel pumps, sales of beads, pomp-pomps and beers/rum to locals?
Some time ago, Mr Major said that the existing Junkanoo model creates no economic benefits and does not draw extra tourists to the Bahamas. He argued that the hotels were typically full during the Christmas and New Year periods, meaning there was little scope to draw extra visitors and spending.
In a recent presentation to the Rotary Club of West Nassau, Mr Major said: "We are giving the tourists something to come here and do in May. We have 25,000 people sitting out on those ships, crew and passengers every weekend, and the farthest they walk is to Junkanoo Beach and back. Every stop they make has the same beach, so the question is what are we really selling.
"We know that Baha Mar will bring a few thousand rooms on stream by April. We have an additional 8,000-9,000 rooms on the island, most of which will be empty by May. We can now put those junkanooers to work to sell to the incremental tourists who will be coming here. Anyone who wants to make money during this week long period can, and there will be millions of dollars spent.
Mr Major said the government was pumping roughly $9m into the Bahamas Junkanoo Carnival event, while organisers were looking to raise about $4m in ticket sales and sponsorships. So, did they attain the $4m in ticket sales and sponsorships? We would like to know.
During that presentation, Mr Major asserted that they were looking at a GDP impact of close to $30m. In recent weeks, he upped that to $50m. I cannot wait to see the breakdown since the numbers won't and don't lie and I'm hopeful that no one is cooking the numbers.
As it stands, hoteliers have said that they experienced no business boom during the carnival weekend so where were the tourists and persons flocking to Nassau? What's more, vendor sales were astonishingly low.
And, why was Sammi Starr – winner of the music masters competition – only given $20,000 and other participating musicians only earning $1,000. Frankly, Sammi's $20,000 is merely a fraction of one per cent of the $9m purportedly spent on the carnival.
What's more, when one considers Machel Montano's set, all his dancers and other personnel, there is no way that the government only paid $100,000 for the headline act. They must have paid him $100,000 for his performance that night, but surely that $100,000 did not include his room and board, transportation, airplane tickets for himself and his team and his food. So, what did the government really spend on the headlining act? We want to know. Can we have a proper audit done of the monies actually spent on the carnival festivities please?
I had a great time on the night I went to Clifford Park. I'm sure other Bahamians did as well.
However, Bahamas Junkanoo Carnival has evolved into a matter of moving goalposts. Nobody is questioning how good a party we had. Bahamians had a blast, but if you spend $9m on a party one would expect that it's a really good party. That's not the point.
Dr Duane Sands sums the point best in a recently posted video to his Facebook page, which he captioned: "Hear what our PM said just a few months ago. He said then that this was 'about business at its best'. He said that the marketing thrust was going to be directed to reach Atlanta, Miami, Canada and NYC. He spoke about ensuring that a major marketing thrust would be directed at the four million cruise ship visitors … some of whom would be targeted to be specifically in port for the event. Shouldn't we look at Carnival through the lens of its creator?"
Next year, the government must not wait so late to announce the headliner. How did we move from the carnival being about the number of heads in hotel beds to the number of people jumping "in da line"?
Ultimately, the carnival was nothing like what the PM said it would have been. But, perhaps this is yet another moment when the PM looks the public in the face and says one thing (that it'll be an economic boost that attracts visitors) and does something totally different and now expects us to just roll with that (now saying it was a great cultural expression for Bahamians).
Adrian Gibson