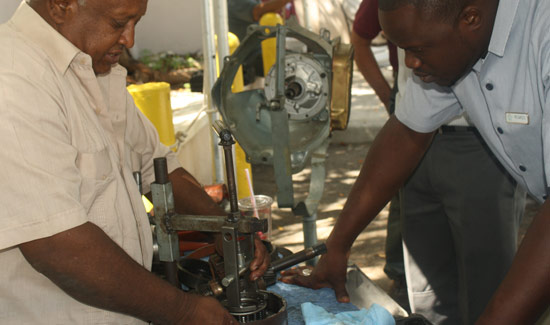 Harborside Resort at Atlantis employees have the opportunity to enhance their careers or explore side trades, after meeting with a cadre of faculty and staff at a Bahamas Technical and Vocational Institution (BTVI) career fair organized exclusively for them.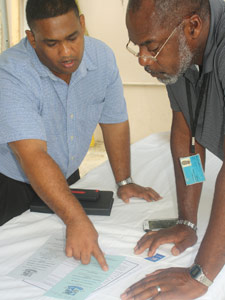 Held recently at the resort, scores of workers turned out for the information session and mini career fair, which showcased the myriad of associate degrees, diploma and certificate courses offered at BTVI.
Harborside Human Resources Manager, Jacquelyn Gardiner encouraged the maintenance and space cleaning staff to take advantage of the opportunity to improve their skills or gain new ones.
"You work at Harborside and you take home a salary, but from the survey we got, a lot of you are interested in going back to school, so utilize today's information.  We have great carpenters, mechanics, servers; we want you to use your talent so it could become an extra source of income," said Ms. Gardiner.
BTVI's Dean of Construction Trades, Alexander Darville said the career fair proved to be a win-win situation for both organizations.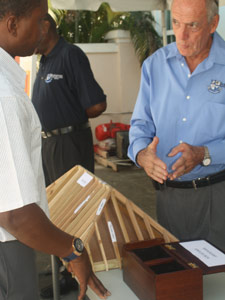 "This fair means that industry recognizes BTVI for its full potential.  The mere fact Harborside approached us is evidence of our worth.  From Fashion and Cosmetology to Business and Information Technology, the link has been made; while their employees can sharpen their skills, the door may now be open for possible internships for our students," said Mr. Darville.
During the fair, Harborside Assistant Shift Engineer, Jamaal Samuels, expressed interest in learning how to repair and rebuild transmissions and engines.
"I thought BTVI only offered basic engine repairs.  They even have diesel and outdoor motor. It seems to be a new, improved product BTVI is offering," said the Harborside employee of nine years.
His colleague, Devon Pratt, also visited booths for information.  He noted that although he is a houseman at Harborside, he wishes to gain additional knowledge in Heating Ventilation and Air Conditioning.  It's a skill he has been utilizing in his spare time to generate additional cash.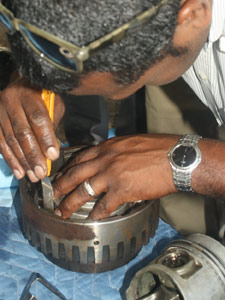 BTVI's Dean of Student Affairs, Racquel Bethel challenged workers to make steps to pursue what they are passionate about.
"What is it that you do well?  What is it that you are able to do that you are not allowing yourself to pursue?  You know what your passion is, well come to BTVI and let us help you pursue your dreams," said Ms. Bethel.
Bahamas Technical and Vocational Institution (BTVI)
Captions in order from top to bottom:
A Harborside at Atlantis employee watches closely during a demonstration by BTVI's Diesel Engine instructor, David Joseph.
BTVI's Head of Department for Information Technology, Anthony Ramtulla sharing information with a Harborside Resort at Atlantis employee about courses
BTVI's Carpentry Head of Department, Graham Thornley with an employee of Harborside at Atlantis during the career fair.
Harborside at Atlantis, Assistant Shift Engineer, Jamaal Samuels, trying his hand at compressing a transmission drum, which was on display during BTVI's career fair at the resort.