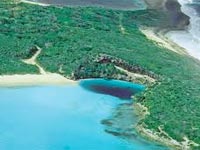 The plight of the people of Long Island seems to have been lost on the powers that be as this gem in our archipelagic chain continues to languish in the doldrums.
As it stands, Long Island – my hometown – is on the fringes of our nation's development. Of late, a group of Long Islanders have communicated some of that island's issues/concerns to me.
1 Why has water not yet been extended to both the southern and northern ends of the island? When will we see the actuality of the long-promised reverse osmosis plant for northern settlements? When will water improvement solutions be provided for persons using well water; since the water main is patchy, why haven't Long Islanders been assisted via the distribution of water purification tablets throughout the island, especially to those residents – many elderly – who rely upon water pumps connected to salty and/or brackish wells?
2 Long Island has one bank currently open and operational. When Scotiabank closed its two branches, it only left an ATM in Buckley's. We all know that the average elderly person does not and/or cannot use an ATM and, even if they could, still prefers that personal interaction with a teller. Most customers of Scotia on the island are now former customers since many have now opened accounts with Royal Bank. But, how long will it be before Royal Bank pulls out?
And, why does a major island such as Long Island only have one bank? Whatever happened to the now former employees of Long Island who must now join the ranks of the unemployed? And, what about the elderly in the north and the south who now have to use their paltry pension monies to pay someone to take them to Royal Bank in Gray's to cash their cheques which are only between $265 and $285 to begin with? How does RBC accommodate this sudden influx of new customers and are there other banks interested in opening a branch in Long Island?
3 Gambling has taken a foothold in Long Island and, to quote one islander, "only the number man is richer whilst the islanders get poorer and starve by living on chance".
4 Why are Long Islanders being delayed over renewing their business licences? Why does the Business Licence Department in Nassau take so long to renew licences and return them to island folk? And why does the business licensing department in Long Island have to send business licenses to Nassau in the first place? Why is Nassau not granting the island the autonomy to even renew a business licence? Why does it have to take months?
5 It has been alleged that porters and staff at Bahamasair in Long Island have not received a raise in years and, in a few cases, they were initially hired as temporary workers more than a decade ago but their statuses have not been regularised and made permanent? Why is that?
6 Why was ZNS off in Long Island for months? What happened at the Broadcasting Corporation of the Bahamas (BCB) and why did it take so long to resolve? I read Cable Bahamas' statement and they clarified that ZNS' outage on the Family Island was not their fault but the fault of the BCB.
7 We need a special education teacher with a designated centrally located building where children with special needs can be given the expert attention they need. Why have none of the old school buildings that are now shuttered been converted to cater to the island's special needs children?
8 There is no need for two secondary schools and duplicating government's efforts. Why is there not a thrust to amalgamate the North Long Island High School and NGM Major High – under the name NGM Major – and seek greater centralisation of education at the secondary level? I have long said that the facilities that house both schools could be converted and used as government complexes. At present, there is no complex to house all governmental agencies. Why was the much-hyped, promised central high school ditched? A combined school would allow for more to be offered to all Long Island students, foster that a "one Long Island spirit" and merge resources.
9 Why are there teacher shortages throughout the island and no serious effort on the party of the Ministry of Education to resolve the issue?
10 Has anyone thought of how valuable it would be to develop a cruise ship port in Gordon's settlement? For one, it would reinvigorate that dying settlement and, secondly, it would boost the island's stagnant economy. Gordon's offers natural protection from prevailing winds and swells and a deep water port. Passengers could even be ferried ashore. One can imagine the straw vendors and craft workers who could be on site, thereby also reviving these vanishing cultural expressions.
11 When will Long Island get a well-lit and proper international airport that could cater to large local aircraft and direct flights from North America, South America and Europe? The lack of airlift is killing our island. The island's economy is dying due to this sad fact. Why is no one seemingly paying attention? How many Long Islanders would be willing to enter into a public-private partnership (PPPs) to develop a new international hub in Long Island?
12 Long Island is littered with old school buildings that were utilised before many of the primary schools were amalgamated. Why has the government not thought to renovate some and convert them to residences for government workers who may be deployed to the island?
13 When will a new slate of police officers be sent to Long Island? And, why does Long Island currently have six customs officers: what work could six customs officers possibly be doing on an island where the economy is almost at a standstill and where there is no international airport? How much is the government spending on rent every month for these officers and, since Long Island already is home to at least two customs officers who are native Long Islanders, what's the need for the others?
14 Where is the long promised gymnasium promised by FNM and PLP administrations? Will that ever materialise?
15 I'm told that the nurses' residence in Deadman's Cay was recently renovated, but why is no one residing in it? Why is the government still paying rent for its nurses?
16 The dock in Simms is in a ragged, dusty state. It is a health hazard. Why won't the government pave the site where freight is offloaded, rather than having Long Islanders brave near "dust storms" to clear their freight every week?
17 What's with the new fishing regulations? Will the government at least give islanders, second home owners and fishing guides an audience before rushing to implement such a protectionist law which, I'm told, could drive so many second home owners and visitors away from the already ailing Family Islands?
18 In his budget communication, Prime Minister Perry Christie pledged that local government districts will be empowered to assist with real property tax collection and will be able to share in some of the proceeds to fund capital improvements in their communities. How will local government be empowered Mr Prime Minister? And, what percentage of local government's revenue will remain in Long Island and other Family Islands? What percentage of the revenue will be reinvested into Long Island's communities?
19 The Simms Community Clinic does not have medicine to cater to the residents in the north and poor people must purchase medication from the island pharmacy, paying for medication they cannot afford on their meagre pension. This is disgraceful and I'm sure the Minister/Ministry of Health would agree?
I'm tired of Long Island being malignantly neglected and seemingly being seen as a mere afterthought. We Long Islanders only want our fair share of the economic pie … nothing more, nothing less. Why is that so hard for government to understand?
Adrian Gibson