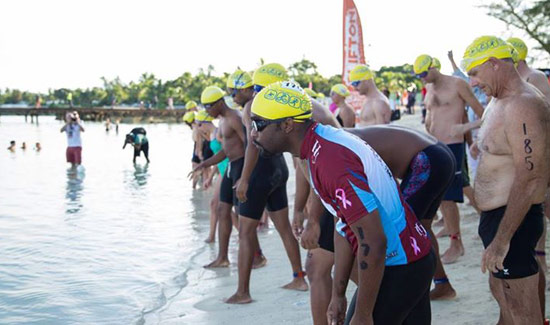 A beautiful calm ocean greeted participants as they arrived for the third annual Powerade Potcakeman Triathlon at Jaws beach on Saturday September 5th. With a record number of participants The Potcakeman firmly established itself as the biggest triathlon in the Bahamas.
Featuring chip timing sponsored by Purina, the first person over the finish line was Olympic hopeful O'Neill Williams representing team 'Rusty Nuts in a course record of 1:00:24. Simon Lowe and Julie Salas became the new male and female champions in times of 1:11:15 and 1:16:20 respectively.
The adults competed in a 750m swim, 21km bike and 5k run. Following this there were two kids races with different distances for children ages 5 up to 14. "We try to make the Potcakeman fun for all levels of triathletes.    said race director Lori Roach. "We had more than 20 people completing their first ever triathlon which is a huge achievement and we want to encourage as many people as possible to get into the sport, especially the younger generation.'.
The forth discipline 'party' swung into action as finishers got to enjoy a refreshing Sands Light beer and kids got to munch on a Dunkin Donut. The Rotary Club East Nassau were on hand with their van and donated either a burger or hot dog to all participants in support of the cause. "Golden Knight" 400m athlete Ramon Miller presented the awards to the winners. A raffle draw concluded proceedings with the top prize of a Jamis cruiser bike donated by Cycles Unlimited.
"Saturday's Powerade Potcakeman Triathlon was great show of local athletic ability, across all age groups, and is certainly the type of event we would like our brand to be aligned with as we grow momentum across the country" said Cara Douglas – Marketing Manager Caribbean Bottling Company "Additionally the BAARK! spay/neuter program does a tremendous serve to our country keeping our dogs/cats nationwide healthy and the population under control. We are proud and happy to support such a great event and cause."
Additional event sponsors also included Albany, Think Simple, Subway, Solomons Fresh Markets, PappaSurf, Club One, Golden Wings Charter, Damianos Sothebys realty, Higgs & Johnson, Senor Frogs, Asa H Pritchard and Scotiabank. Thanks to their generosity 100% of athletes entry fees go towards Baark (Bahamas Alliance for Animal Rights and Kindness) bringing the total raised from the event to over $25,000. "We are overwhelmed by this amount raised which has exceeded our expectations" added race director Sarah Kennedy "The money will go towards Baarks spay/neuter and education programs all over the Bahamas. It's a wonderful feeling when everyone's hard work pays off, our volunteers deserve a special mention who were integral to the event's success."
More information be found out www.baarkbahamas.org
Photo album on Baark's Facebook page