The U.S. Mission to The Bahamas is working together with the Government of The Bahamas and the Bahamian people to respond in the aftermath of Hurricane Joaquin.
On Saturday, October 3, the U.S. Coast Guard conducted an extensive disaster assessment through the most impacted areas of The Bahamas observing conditions on the ground in Ragged Island, Long Island, Crooked Island, Mayaguana, Samana Cay, San Salvador, the Exumas, Cat Island, and Eleuthera.
The U.S. Coast Guard Liaison Officer and Department of Homeland Security Attaché was joined by disaster assessment experts from the Office of U.S. Foreign Disaster Assistance (USAID/OFDA), the National Emergency Management Agency (NEMA), the Ministry of Meteorology, Bahamas Civil Aviation, the Ministry of Works and Urban Development, the Royal Bahamas Defence Force (RBDF), and the Bahamas Red Cross.  The information gained from the assessment has been instrumental in directing resources to those most in need.
On Sunday October 4, the Drug Enforcement Administration (DEA) with the Royal Bahamas Police Force (RBPF) began flying multiple air missions to direct assistance to distressed and stranded individuals in the most severely affected islands, primarily San Salvador, Crooked Island, and Long Island.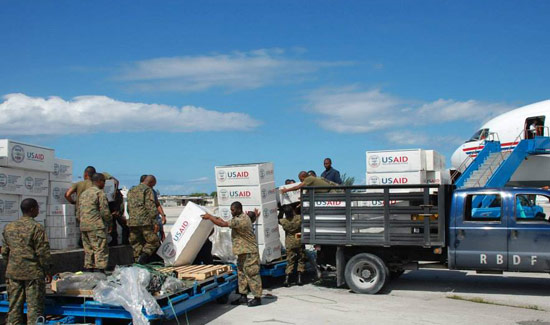 These missions included: transporting police officers to isolated areas; conducting assessments to determine medical emergencies and sustenance needs; transporting medical supplies, food and water; and utilizing hoist operations to assist people who were completely cut off due to flooding.
Prime Minister Perry Christie joined DEA and RBPF onboard a Bell 412 helicopter on a mission to the southern section of Long Island, where humanitarian supplies were delivered and the Prime Minster was able to meet with residents trapped without food and water.  Similar missions, including with Prime Minister Christie, continue on October 6, with an operational focus on communities in and around Crooked Island where some residents have been without food and water since Friday when the storm passed.
Also on October 4, U.S. Chargé d' Affaires a.i. Lisa Johnson with USAID/OFDA handed over relief supplies flown in from Miami valuing over $100,000 to NEMA.  RBDF officers supported the handover of the supplies which weighed over 37,000 pounds, and included 200 rolls of plastic sheeting, 500 hygiene kits, 540 kitchen kits, 600 collapsible water containers, and 500 blankets.
The U.S. Mission will continue to work collaboratively with the government of The Bahamas in support of its efforts to bring relief to those severely impacted by Hurricane Joaquin.
U.S. Embassy, Nassau
Captions:  NEMA, with the assistance of the RBDF, received the shipment of hurricane relief supplies at Jet Aviation in Nassau.