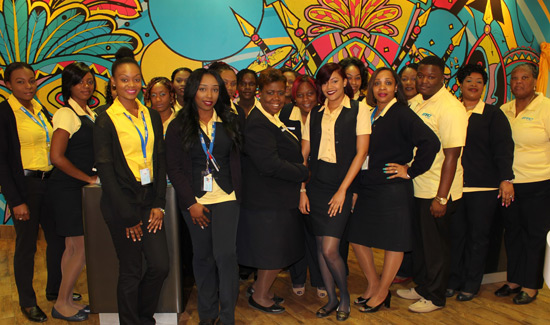 The Bahamas Telecommunications Company (BTC) has recently widened its 24/7 Call Centre service platform to include credit card payments over the phone for land, mobile and internet bills, instant restoration of disconnected services and TopUp.
Shena Bowleg, BTC Contact Centre Manager, said that the additional over-the-phone payment option has proved very popular very quickly. "The word got around fast. I think with everyone's busy schedule, traffic etc., it's just so convenient – it makes a lot of sense – after all, people stand in line to pay bills with a credit card, now they can just pick up the phone and pay bills the same way and also get TopUP and help with any other BTC queries."
The BTC customer service experience has continued to evolve over the last five years. With more than sixty stores, both owned and franchised, bringing the products and services closer to the consumer, a revitalized web and social media experience, the Company continues to explore options to make reaching BTC for any reason as easy as possible. The option of a phone call or live chat with a representative while on the website or on Facebook, is popular, and the website, which is fully intuitive, adapts for mobile phone and tablet usage. Additionally, using the BTC Mobile App 'My BTC,' customers can check their usage and view and pay their bills online.
"The service model has changed from 5 years ago to focus on providing service to customers on their time and on their terms to meet the growing demands and expectations of our customers. Hence, the development of more user-friendly, customer 'touch-points', such as Social Media, online Web site interaction, Live Chats, Mobile App, Concierge, an enhanced Customer Centre and increased neighbourhood store fronts."
Rollen Goff, a retired management executive says he couldn't have been more pleased with the manner in which he was helped when he chose to phone in his problem. "When I had my landline installed I asked for my phone number not to appear when I called someone, and then all of a sudden, 25 years later, that service stopped. I called the Help Line and they explained why it had happened and restored the service whilst I was on the phone to them. Can't get much better than that!"
Shanell Scavella-Cunningham, another recent caller to the Help Line said she felt empowered and grateful for the helpful and sensitive manner of the assistance. "I was so pleased with the way she talked me through so patiently every step of the way to solve my cell phone query that I got her name and took the time and trouble to write a note to BTC saying her great she was."
The recent addition of BTC's Concierge Service is also a big success. Anyone can schedule an appointment at their store and time of choice for no lines, no waiting, instant service. They complete a short online form prior to their appointment noting the nature of their visit to ensure a successful outcome.
"Every day we monitor the customer experience and continue to examine and implement new ways to improve how we serve our customers," said Patricia Walters, Senior Vice President for Customer Service. "BTC has a varying customer base, the world as we know it continues to change and we must remain nimble enough to change too. Five years ago it was sufficient to just have a few locations and do business within particular hours, but no longer, consequently, we are very aware and responsive to customers' needs in this regard."
Serena Williams
CAPTIONS:
Top — 'At your service' could well be the motto of the very helpful Service Centre team at BTC Mall at Marathon. Each team member is daily charged with delivering customer satisfaction with a successful solution to each customer query.
Bottom – A helpful nature and good BTC knowledge secured an interesting and rewarding job for the happy Service Centre team members of BTC's SouthWest Plaza. Every day brings a new opportunity to help customers with solutions for their queries.