Taking responsibility for one's health choices is the aim of The Bahamas Technical and Vocational Institution's upcoming health and wellness fair.
To be held March 17th at BTVI, Old Trail Road, the Student Affairs department is rolling health and fitness into one as 40 exhibitors provide information, demonstrations and samples of their products and/or services.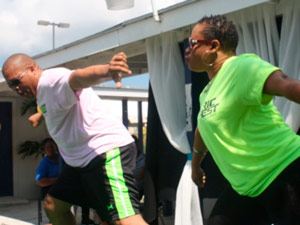 BTVI's Dean of Student Affairs, Racquel Bethel, said the team's approach to wellness is a holistic one that first targets students, staff and faculty, but is also extended to the public.
"We recognize our role as a community partner. Although we are in the business of technical training, we recognize that a healthy body is important for a healthy mind," said Ms. Bethel.
Attendees will have the opportunity to have health screenings, in addition to gaining additional knowledge on family planning, nutrition, physical fitness, naturopathic medicine, insurance, energy and the environment, and more.
"Our vendors will be giving tips on how to prevent disease and maintain a healthy lifestyle. We do not want people to compartmentalize health. There are a lot of elements that complement each other. There is interconnectivity between body, mind and spirit," stated Ms. Bethel.
"We will be talking about the environment and even the allergens we have in our homes," she added.
BTVI's seventh annual health and wellness fair is expected to attract students from various schools, all in an effort to extend the health education, wellness and community resource information beyond the walls of the institution. To be held between 10:30 am and 1:30 pm, BTVI strongly encourages the public to attend the event in an effort to begin and/or maintain a healthy lifestyle.
The Bahamas Technical and Vocational Institution
Extraordinary Body Solution's Massage Therapist and Health Coach, Renea Minus shared information with a fairgoer at last year's health fair.
J-Line Fitness members gave the crowd at BTVI's 2015 health and wellness fair an exciting, energy-filled demonstration of a fitness workout.