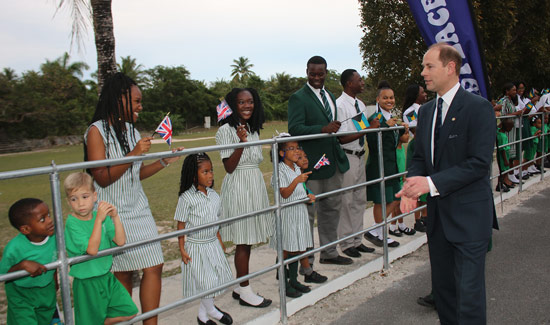 Their Royal Highnesses (TRH), The Prince and Princess Edward, Earl and Countess of Wessex departed The Bahamas this weekend after a whirlwind trip which saw the royal couple meet with scores of young participants in the Governor General's Youth Award.
Prince Edward left a lasting impression in his wake, following meaningful visits with the program's participants at St Augustine College, C.V. Bethel, the Royal Bahamas Defence Force base, Queen's College and Forest Heights Academy, the latter in Marsh Harbour.
At SAC, where GGYA is widely popular, His Royal Highness met with around 90 students.
"He spoke to every participant individually. He asked them about their involvement in the program and he was particularly interested in what they were doing for their community service," said the school's unit leader, Nurse Donna Saunders.
"It's a memory they will carry with them forever, meeting a member of the royal family. They were respectable but it was easy for them to talk to him because he was so friendly and down to earth."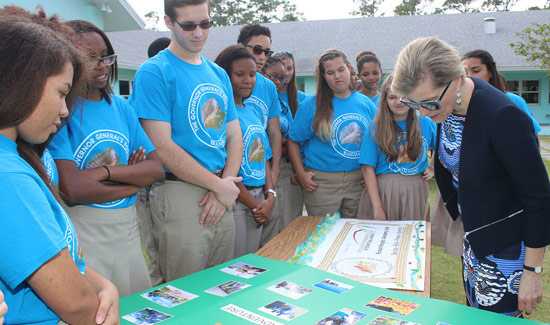 "I was very honored to get the chance to speak with him and share my experience in GGYA," said 12th grader, Sarah Tilbert who wrote a poem about the program's adventurous journey (hiking) component which she got to recite to The Earl.
Prince Edward spoke to the students in small groups of eight, surprising each little gathering with how easy it was to converse with him.
"He made you feel very comfortable," said Gold participant, Achintya Garikartathy, whose family members were excited upon hearing the news.
"He was very easy to talk to and seem genuinely interested in what we had to say. It's definitely a memory I will cherish."
For Stephen Saunders Jr., a 12th grader at C.V. Bethel, meeting Prince Edward was an exhilarating experience.
The Earl met with each one of the school's 37 participants.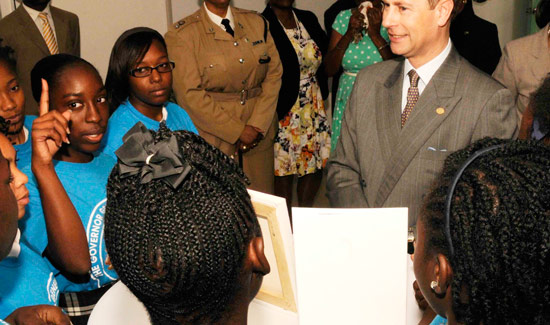 "It was the only government school that he visited in New Providence so it gave me a sense of pride in the school that we were chosen for the visit," said Saunders.
Around 150 Royal Bahamas Defence Force Rangers were on parade during Prince Edward's visit to the Coral Harbour Base; roughly 50 of them were GGYA participants. All participants had the opportunity to interact with His Royal Highness.
"It was a once in a lifetime opportunity for them," Rangers Director, Lieutenant Delvonne Duncombe acknowledged.
"Following the visit, those not involved with the GGYA are keen on joining and getting involved in the program," he said. "It was an awesome experience for the kids and me as director. He didn't just shoot the breeze and move away. He reached them at their level and that's always important with youths."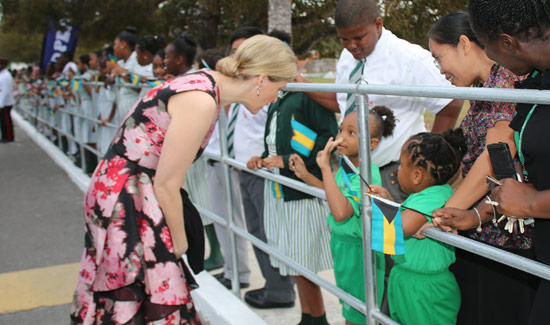 Excitedly waving Bahamian and United Kingdom flags around 200 students welcomed The Prince and Princess Edward to Queen's College for a Gold Award ceremony where 34 participants received their Award on Thursday, March 3.
During the ceremony attended by Prime Minister Perry Christie, Governor General Dame Marguerite Pindling and other dignitaries, HRH congratulated the recipients for their success while reflecting on his experience in the program which he described, as difficult but rewarding.
His Royal Highness is not only the Chairman of the Trustees of the Duke of Edinburgh's International Award but also a Gold Award Holder (GAH).
The Earl of Wessex praised the GGYA for its recognizable growth since his last official visit in 2011.
"I felt that it's in a much stronger place and it's wonderful the support that the Award now has in the country," Prince Edward said.
"It's so important that at an event like this your achievements are recognized by such dignitaries in the land. It's very importantÖwhat you do outside the classroom is just as important as your education and it should be recognized."
He added: "That's what we try to do through the Award and its terrific; if we can spread it to more young people throughout The BahamasÖthen all the better.
"I hope you will go on to make a difference to other people's lives in the future, whether that's through the award or through other voluntary activities or through whatever you choose to do with your careers."
During the ceremony Prime Minister Christie threw his support behind the program. Noting the significance of the GGYA's work with youths across The Bahamas, Mr Christie said it's why the program receives "the lion's share" of the Ministry of Youth, Sports and Culture's budget.
One of those recipients who proudly walked across the stage to receive his award was Elbert Johnson who along with the other Gold Award recipients embraced the opportunity to engage in conversation with their Royal Highnesses following the ceremony.
"It felt comforting. It made me feel like he's actually human and not just a figure head that you would just see on television. It makes one feel more connected," said the 19-year-old.
Johnson, a graduate of Aquinas College is currently enrolled at the College of The Bahamas. His mother, Samantha, said she sees the change in him since joining GGYA.
"GGYA is an excellent program. It teaches discipline and self-confidence," she said. "A lot of things he thought he was not able to do, once he got into the program he realized that ëhey I can do this' and he did it."
Expressing similar sentiments was Gregory Stubbs whose daughter Tavia Nottage received her Gold Award.
"She has grown so much by being a GGYA participant. I really applaud the organizers and those persons who are responsible for this program to continue in your efforts to build a stronger Bahamas," he said.
The Gold Award takes a minimum of 12 months to complete for Silver recipients who have fulfilled community service, skills and physical recreation requirements.
Gold participants must also undertake a residential project which takes them away from home for five days and four nights as they complete a major community service.
Funding from the Ministry of Youth, Sports & Culture through the G.O.L.D. Initiative has helped to maintain and/or create units on Grand Bahama, Exuma, Abaco, Long Island and Andros.
During the royal visit to The Bahamas, The Earl and Countess of Wessex traveled to Abaco on Friday, March 4, where they met with the island's GGYA participants from Forest Heights Academy, Abaco Central High School, St Francis de Sales Catholic School and S.C, Bootle High School.
Precision Media
Prince Edward greets Queen's College students as he arrives to the school for the GGYA's Gold Award ceremony on Thursday, March 3.
A beaming Tyra Bowe receives her Gold Award from Their Royal Highnesses (TRH), The Prince and Princess Edward, Earl and Countess of Wessex.
The Countess peruses display boards showing participants' skills, service and physical recreational activities.
GGYA participants at C.V. Bethel get the opportunity to meet with Prince Edwards in small groups.
Her Royal Highness stops to chat with a young student of Queen's College.
Photos courtesy of Precision Media for the GGYA