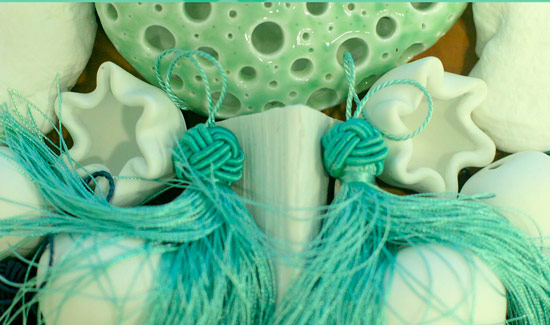 Ceramic artist, Alistair Stevenson, is completing the final touches for his annual exhibition entitled 'Pomp & Pageantry' which will open on Thursday, August 25 from 6-8pm at Doongalik Studios, #20 Village Road.
Speaking about the inspiration for this year's theme, the artist made the following statement: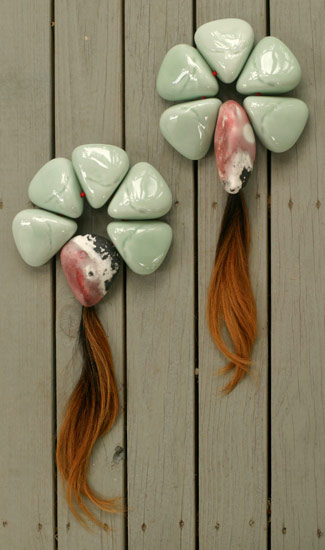 "From the beginning of time, mankind has lived in a world where egoism has defined the rules of aesthetics.
Human beings are constantly inventing and reinventing innumerable ways to enhance their natural beauty using countless forms of body embellishments from head to toe, such as: head scarves, ties, belt buckles and buff leather shoes.
For most of us, being able to transform ourselves daily in this way is extremely satisfying because of our deep seated need to validate these internal values.
The same principle applies to food preparation when proportions, colours and forms are taken into consideration in order to ensure that the plate presentation is firstly pleasing to the eye before appealing to the sense of taste.
"With so many options and approaches available to expand upon this topic, I decided to embrace the influence of jewelry as a means of manifesting the ways in which we express beauty in our everyday lives.
"Pomp & Pageantry" examines how human beings place this burden of beauty on themselves in the ways we dress-up to please our own eyes, as well as to appeal to the eyes of others. I have created exaggerated jewelry-like pieces that promote this idea through their showy, boisterous porcelain 'beads' of plain white, celadons, and pre-historic pit-fired finishes. Each bead was cast from plaster molds of river stones, stratified rocks and firewood, along with other curious objects like sweet potato and bitter melon. Most of these objects were found in the various factory and restaurant areas of JingDeZhen City (景德镇市), and most of the stones were collected from one of the ancient Silk Road routes of China known as ChangJiang River (昌江), once used to ship the precious porcelain pieces that were crafted there. This, in addition to the tribal and primitive look of the objects, further emphasizes the age-old concept of beauty, a beauty that all humans experience.
"With their unconventional sizing and weights, the 'Pomp & Pageantry' jewelry pieces are meant to be ornamental objects and are not intended for everyday wear. The works are simply to remind us of the significant efforts we make to adorn our bodies and embellish our lifestyles, to teach us to appreciate whatever approaches we have to beauty, and to develop our abilities to create them. Apart from their commercial uses, the aesthetics of beauty are more often regarded as personal and precious, and I would like my viewers to also extrapolate this from my work."
Born and raised in the saltwater banks of Long Island, Bahamas, Stevenson works as a Ceramicist exploring both fields of fine artistry as well as commercial product. Upon graduation with an Associate Degree in Art from the College of The Bahamas in 2012, Stevenson pursued his goal of furthering his knowledge of clay in the world's porcelain capita,l with fully-paid funding from the China Scholarship Council.
In September of 2013, Stevenson began a year-long quest of studying the Chinese Language at the Nanjing Normal University, Jiangsu Province, China. By 2014, he achieved certification in Chinese Language Studies, and then moved to Jingdezhen Ceramics University, Jiangxi Province. Here, Stevenson dived into a world where porcelain clays of the highest quality are first mined from kaolin stone, then further crafted into seventy-one other forms before reaching the final product. In addition to pursuing a Bachelor's Degree of Ceramic Art in Jingdezhen, Stevenson spends much of his time developing his personal ideas in studio, and fully embracing the opportunities in the city's enormous expanse of ceramic resources.
The artist continued: "It is with great pride and modesty that I am able to produce these works. Before leaving The Bahamas for my studies in China, I had always imagined myself traveling to JingDeZhen City to work in its culturally rich ceramics environment. Although there is still so much left for me to learn and understand about ceramics, and about life itself, I can confidently say that my time there thus far has been nothing less than rewarding.
"Getting to this point, however, could not have been accomplished on my own. I have received enormous support over the years from my friends and supporters, as well as from organizations such as The Charitable Arts Foundation, The D'Aguilar Art Foundation and Empty Bowls Bahamas, all of whom have provided me with financial, spiritual and emotional support on my quest. Once again, I hope to continue receiving such support, as the earnings from each purchase from the 'Pomp & Pageantry' Exhibition will assist with my ceramics education in China."
An Artist Talk on the 'Pomp & Pageantry' exhibition will take place at Doongalik Studios on Sunday, August 21st, 2016 at 4pm. The talk will discuss the work on display along with Stevenson's collaboration with Creative Nassau at the JingDeZhen International Ceramics Fair 2015, and will also examine the artist's insight into his many experiences living and studying in the world's greatest center for porcelain production, JingDeZhen City.
'Pomp & Pageantry' will be on display until Monday, September 19. Gallery hours are Monday to Wednesday 10am – 4pm, or by appointment. Further information can be obtained by contacting the Gallery at pam.burnside@doongalik.com or by telephoning them at 394-1886.
Various ceramic pieces from the 'Pomp & Pageantry' Exhibition
Photos by Alistair D. Stevenson