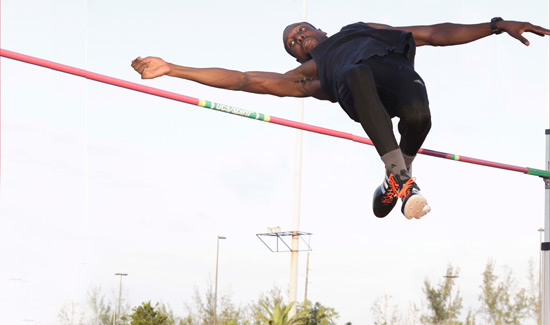 Trevor Barry, one of three Bahamian High Jumpers to qualify for the Rio Olympics, came home to Nassau for final training with Sports Legend Coach Keith Parker. He  headed off to Rio on August 8 with high hopes for his next international medal. He is scheduled to compete in the high jump preliminary round on Aug.14, hoping to make the final on Aug.16
Jumper Barry noted, "Mr. Parker has been my coach for the past 6 years. I live in North Dakota so I usually rely on his email analysis of video. He coaches by email and telephone apart from the times I am able to travel home and at the actual major competitions such as the World Championships, Olympics, CAC Championships and Commonwealth Games, when Coach Parker is usually with me."
Barry explains, "Although Mr. Parker was planning to be in Rio with me, I was concerned when I learned that he had not yet received necessary accreditation even though he purchased his tickets several months ago.
"So, I told him that in case he could not be in Rio, I would like to come home to work out before I left for the Games. Mr. Parker was enthusiastic about this possibility and very quickly found a sponsor for my trip home. Bahamas Wholesale Agency agreed to have their Lucozade product sponsor my fare, so we have been able to have the crucial training sessions together. "
Coach Parker says, "I believe that an athlete benefits from training at the same time of the day as the major events at the meet for which he is preparing. In this case the Rio high jump events are scheduled at 8:30 in the evening which means being ready to warm up and do preliminary jumps from about 7 p.m. The Lucozade sponsorship made it possible for us to do this together in Nassau,  resulting in real breakthroughs and high hopes for a medal in Rio."
Barry adds," The high jump is a very technical event with very precise margins of error. I have had a problem (common to many high jumpers) in maintaining a consistent approach run as the height of the bar changes. We have been working on several strategies to try to correct this problem which, if successful should enable me to increase my current best height from 2.32 metres to 2.50 metres which will probably be the height required to win a medal. I am most grateful to Lucozade for making it possible for me to come home to try to get this improvement.
"Marketing Manager for Bahamas Wholesale Agency Chrystonia McCoy hopes to be able to say "Reaching Higher Heights with Lucozade" and I will certainly try my best to prove that this is true."
Perhaps the Dynamic Duo of Jumper Barry and Coach Parker will pull off another long distance "Leap of Faith" such as the one which gave Barry the Bronze Medal and The Bahamas its only medal at the 2011 IAAF World Championship in Korea.
Coach Parker was unable to travel due to Dengue Fever, but the two kept in touch by phone before the competition and via TV during the event. Such is their faith in each other that when Coach Parker advised his star athlete to pass  (skip that height) at the highest height he had ever cleared, Barry did so and went on to clear the bar at 2.32 meters, his highest jump ever.
Barry says, "Prior to the 2011 World Championships, my best clearance was 2.29. Coach Parker phoned me from his Dengue Fever sickbed and advised me to pass this height, predicting this jump could probably only place me 6th or 7th.  I did this, to the surprise of all the team officials and broadcasters present. But, I cleared my best ever height of 2.32, just as Coach Parker had predicted. This earned me the bronze medal, the only medal our team won at those World Championships. "
Barry left their final coaching session in Nassau on Monday, in high spirits.
Keep the faith, Barry!
Watch the jumps.
By P.S. News/Features
Caption: HIGH HOPES FOR RIO–Olympic High Jumper Trevor Barry headed off to Rio on August 8 with high hopes for his next international medal to be Olympic! He is scheduled to compete in the high jump preliminary round on Aug.14, hoping to make the final on Aug.16. "Coach Keith Parker and I  have been working on several strategies which, if successful should enable me to increase my current best height from 2.32 metres to 2.50 metres which will probably be the height required to win a medal. I am most grateful to Lucozade for making it possible for me to come home to try to get this improvement. …Marketing Manager for Bahamas Wholesale Agency Chrystonia McCoy hopes to be able to say "Reaching Higher Heights with Lucozade" and I will certainly try my best to prove that this is true." Parker and Barry both look forward to another historic "Leap of Faith". Photo by Derek Smith