Plus Exciting Opportunities For The Winners!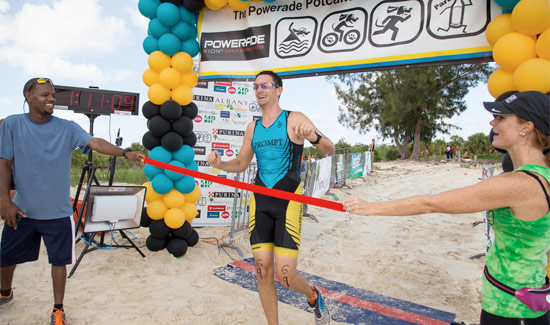 The fourth annual Potcakeman Triathlon will be taking place at Jaws Beach on Saturday September 24th. Due to the growth of the event and by popular demand, an Olympic distance race has been added to this year's schedule in addition to the traditional Sprint.
The swim-bike-run route starts in the ocean at Jaws Beach, heads out onto the road before returning for the run along the trails of Clifton Heritage Park. Olympic distance athletes will complete each loop twice.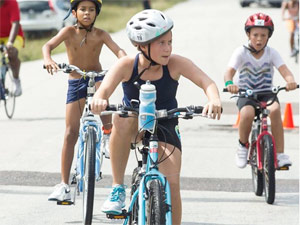 Following the main events there will be a hotly contested "Puppy Tri" race for children ages 6-14. As well as unique finish medals, dri-fit T-shirts and a full swag bag, all racers will be rewarded with a Heineken beer and hamburger from the Rotary Club East Nassau's Van. Kids will all get a Dunkin Donut.
Race Director Sarah Kennedy encourages anyone still wishing to register to do so before the closing deadline on Tuesday September 20th. "We are on track for a record turn out" she said, "we have competitors travelling from USA, Canada, Mexico and Panama and can't wait to see who will be crowned champions. We also have a once in a life time opportunity for the winners".
Lauren Holowesko Director of The Island House reveals more "The Island House is excited to provide a male and female winner of The Potcakeman Triathlon 2016 with the opportunity to take part in The Island House Invitational Triathlon's Fittest CEO Challenge on Saturday, October 29th 2016. The winners will be able to compete alongside the world's greatest triathletes in a race which is fast becoming one of the most amazing events in the sport."
All Potcakeman participants will also be entered into a bib draw at the end of the race for a chance to win one of four VIP transportation tickets to Highbourne Cay to watch the final day of competition.
In addition to presenting partners Powerade, the event is being sponsored by Albany, Subway, Purina, Think Simple, PappaSurf, Higgs & Johnson, The Pet Food Institute, Daminos Sothebys International Realty, Heinenken, Club One Fitness Centre and Golden Wings Charter.
There will also be a raffle draw on race day, the top prize being a Jamis Trail XR bike donated from Cycles Unlimited.
The race is being organized by the non-profit organization Baark! (Bahamas Alliance for Animal Rights and Kindness). All money raised from the event will go towards their spay/neuter and education programs all over the Bahamas.
More information and registration link can be found at the website