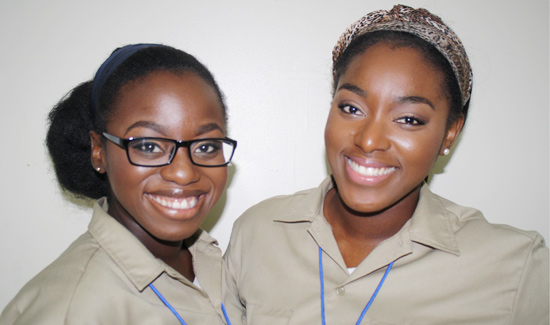 D'Andra and Aimee Rolle have much in common. They are sisters. They are both Electrical Installation majors. They both recently landed scholarships. And they also are on their way to becoming linesmen.
Have a chat with them and you immediately love their effervescent personalities. Besides, they are articulate, intelligent and focused.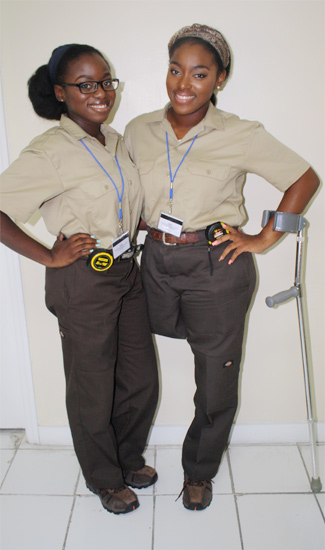 The only thing that makes D'Andra different from Aimee is that she is an amputee who loss her leg from osteosarcoma (a rare form of bone cancer) at the age of 14. But having one leg has never stopped her from achieving her dreams.
"I want to be a linesman at Bahamas Power and Light (BPL). I want to be on the poles. In one of my classes, we were asked if anyone wanted to be a linesman. Only my sister and my hand went up!" said D'Andra who recently received a prosthetic leg free of charge from Prosthetic and Orthotic Associates in Orlando, Florida.
The Rolle sisters are enrolled at The Bahamas Technical and Vocational Institute (BTVI). If it were not for Sol Petroleum – distributors of Esso fuel – it may not have become a reality.
"I am appreciative. It's amazing that they believe in me – even in my position. I wouldn't have this chance without their funding. And we will be trying to make as close to a 4.0 grade point average as possible," said 24-year-old D'Andra.
The young ladies' interest in the construction trades was sparked when their brother studied Electrical Installation at BTVI.
"We read his books and developed a love for it," said Aimee, "In fact, at our Jehovah's Witness congregation, we are a part of the Local Design/Construction department, so we have done painting, tiling, jack hammering and more," she stated.
D'Andra chimed in, saying, "Hands on work is exactly for us. In one of my classes, a guy said, 'Y'all sure this isn't too much for y'all?' I asked him, 'Are you serious?'" she questioned.
"The worst thing is for someone to tell me I can't do something. I like a challenge. My one leg has nothing to do with it," emphasized D'Andra, who participated in the Susan G. Coleman Bahamas Race for the Cure back in January.
"Complaining takes so much energy. I am content. I am at peace with myself," said the amputee.
Meanwhile, the young women are in their first semester at BTVI. Each has a $1,500 scholarship from Sol Petroleum that they believe has set them on the pathway to pursuing their dreams.
"I am really grateful," said Aimee, "The fact that Sol Petroleum gave me a scholarship for a male-dominated field, they clearly see my potential. I would not be able to attend BTVI otherwise. For years, we wanted to come and couldn't," said the 23-year-old.
"People think we should be in cosmetology or business. What's stopping us from being linesmen?" she questioned.
The sisters also spoke of the assistance they are receiving from BTVI's faculty and staff thus far.
"I feel there is no way you can fail. The instructors are so helpful. And the Associate Vice President of Fund Development, Alicia Thompson, I am so grateful for her. She has been so supportive," said D'Andra.
"I stopped the head of construction, Mr. Alexander Darville in the parking lot, and he stopped, taking time from what he was doing to help," added a grateful Aimee.
Ms. Thompson said clearly Sol Petroleum has confidence in the institution's product and said her department continues to play the important function of bridging the gap between those deserving students who want to chase their goals and the donors who have the resources to enable them to do so.
"I see this as only the beginning of many wonderful stories yet to be written in the anals of the history of BTVI. I was merely the conduit through which the donors were able to invest in the lives of these young ladies. I recall the first day they came into my office to apply for scholarship assistance accompanied by their mother and how resolute they were about their decision to enroll. Now when I see them in their Electrical Uniforms with their measuring tapes at their waists, I beam with joy," she exclaimed.
She added that BTVI's message aligns perfectly with Sol Petroleum's core values.
"I believe that they see us as a diamond in the rough and are prepared to stick with us through this process of perfection. It says that they believe in the quality of instruction, the caliber of instructors and the exemplary graduates that we produce," said Ms. Thompson.
Additionally, Aimee said they want to use what they learn in the Electrical Installation program to do volunteer work after hurricanes.
"We want to give back. People have helped us," said Aimee.
D'Andra exclaimed, "I got a whole leg free, so who am I to just think about myself!"
By Hadassah Hall
The Bahamas Technical and Vocational Institute (BTVI)
Caption: Aimee and D'Andra Rolle
Photos by Shantique Longley
Over the past year, 13 BTVI scholars have been awarded $1,500 each by Sol Petroleum. At present, 10 are current students.