The government of Canada's Department of Global Affairs, recently selected President of the Bahamas Technical and Vocational Institute (BTVI), Dr. Robert W. Robertson, as a scholar in the Emerging Leaders in the Americas Program (ELAP).
Co-organized by the Canadian Bureau for International Education (CBIE), the ELAP scholarship is designed to support the development of human capital and the next generation of leaders in the Americas, while strengthening the linkages between post-secondary institutions in Canada, Latin America and the Caribbean.
Moreover, the purpose of the ELAP is to promote democratic governance, peace and security and prosperity in the region. In addition to The Bahamas, countries participating include Jamaica, Belize, Honduras, the Dominican Republic, Haiti, Panama, Uruguay, Peru and Cuba.
As a part of the scholarship, Dr. Robertson visited a number of community colleges in Canada. One of the visits was to Holland College in Charlottetown, Prince Edward Island. There are more than 50 Bahamian students attending Holland College. President of Holland College, Brian McMillan, has developed a strategic internationalization plan. President McMillan notes that "the plan focuses on a high quality, safe learning environment that supports student success."
A Bahamian studying at Holland College, Rex Charlton, said, "Holland College has been a wonderful opportunity, allowing me to experience the best of Prince Edward Island." As a result of Dr. Robertson's visit to Prince Edward Island, BTVI and Holland College are seeking to further explore mutually beneficial opportunities. Over the years, several BTVI students have been afforded study abroad opportunities at Holland College for a semester or two, before returning to complete their Associate of Applied Science degrees. Representatives of Holland College are expected to visit BTVI before the end of November.
In addition, Dr. Robertson participated in CBIE's 50th Annual Conference in Ottawa, Ontario, November 14-16. The conference is a landmark event that brought together more than 800 academics, delegates and stakeholders from Canadian and international institutions, provincial and federal governments as well as national educational associations. Many sessions addressed the growing importance of building a global perspective in academic institutions.
Dr. Robertson noted that this conference was very important in understanding how academic intuitions are globalizing and why this type of initiative is important, particularly for BTVI. Dr. Robertson notes that "BTVI is focused on providing globally competitive skills for all of its students, and the linkages forged during the ELAP program and the CBIE conference will be of great assistance in meeting that mission."
Dr. Robertson is the President of the Bahamas Technical and Vocational Institute located in Nassau, The Bahamas. He has more than 25 years' experience leading award winning organizations in Canada, the United States and Central Asia.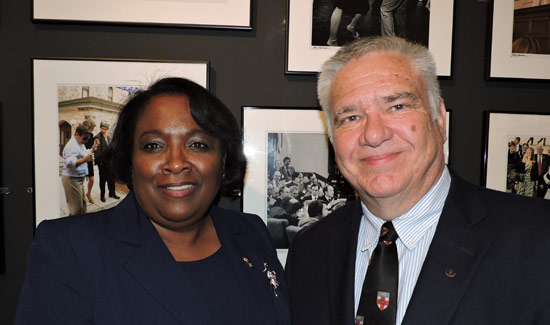 Bahamas Technical and Vocational Institute (BTVI)
Captions:
Picture (l-r) President of Holland College, Brian McMillan; Bahamian student, Rex Charlton and President of the Bahamas Technical and Vocational Institute (BTVI), Dr. Robert W. Robertson.
Bahamas Deputy Chief of Mission, Roselyn Horton is shown here with BTVI's president, Dr. Robert W. Robertson during his recent visit to Canada.