As an 18-year-old who already has a baby, a Bahamas Technical and Vocational Institution (BTVI) student spoke candidly about why she recently participated in the school's free HIV testing. The teenager said she takes every opportunity to know her status.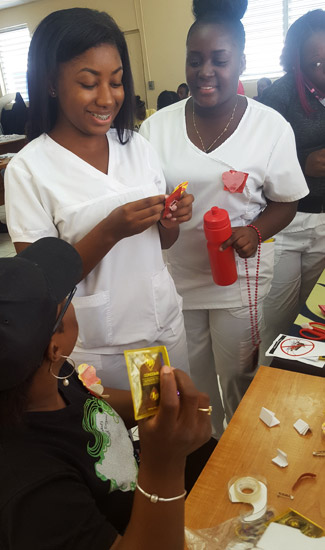 "You have to take your sexual health seriously. Abstinence is best, but I encourage people to wrap it up. There are a lot of sexually transmitted diseases out there. It could happen to you," said the young woman.
HIV/AIDS is one of the leading causes of death among young people in the country. Hence, BTVI recently held its 5th annual campus-wide 'Know Your Status' HIV testing initiative. Before the rapid testing, there were brief informational sessions to strengthen awareness of the deadly disease. Discussions included how the virus is spread and preventative measures – all a part of the educational component to help people make informed decisions.
BTVI has had nearly 1,000 students, staff and faculty tested for HIV over the past five years, according to Dean of Student Services, Racquel Bethel.
Ms. Bethel said BTVI's collaboration with the HIV/AIDS Centre shows the importance of partnership regarding the nation's future.
"The fact that BTVI plays a vital role in building the nation's workforce, we want our students to be good citizens and healthy. It's important to not just educate them with technical and vocational skills, but to provide them with resources to keep them well," she stated.
"According to United Nations AIDS statistics for 2015, there are just over 8,000 Bahamians living with HIV and the prevalence rate of adults aged 15 to 49 is 3.2%. The reality is, young people will make their own decisions, but if educated, they can make the right choices," said Ms. Bethel.
Furthermore, Health Educator, Emile Lesbott, underscored the importance of education.
"People die for the lack of knowledge. Rapid testing is the way to go. It's a free line before you get into trouble. Get yourself tested," he advised, "it arms you to make good decisions and not take risks."
Another Health Educator, who spoke on the condition of anonymity, said today's youth are easily exposed to sex.
"They are exposed to sexual images on social media like WhatsApp and Facebook. We want them to be responsible. They must link the reality of sexual activity and HIV," he said.
While waiting to be tested, an Auto Mechanics major said too many people are not practicing safe sex.
"They don't have money to buy condoms or diaphragms. They still have sex based on mood and time. I think it is important for organizations like this to provide information on viruses that can be caught during sex. I'm not shy about it. So that's why I came to be tested," said the 21-year-old.
During the testing, the Red Cross manned what it dubbed as a condemize booth. They were distributing pins and badges strung on necklaces. The idea was that wearing them would encourage others to ask questions about condoms and safe sex.
Meanwhile, an Electrical Installation student also believes sexual safety is important.
"Whether young or old, it is important to be educated on HIV. It's best to know. Put pride aside. Sex is not a game. At least protect yourself," the 18-year-old stressed.
Another student was frank about why she was being tested.
"As someone who is sexually active, I want to make sure I am healthy. We have a lot of people having unprotected sex. They feel they can trust their partner. They don't realize they can only trust a condom. I am very strict about condoms. I don't want to open myself to diseases," said the 23-year-old.
It is one of the reasons BTVI's Student Affairs department's programs expand six dimensions of wellness including physical health. Therefore, the HIV testing was an attempt to educate about HIV and sexual health.
"Every year, students show up willingly to be tested. That's quite encouraging. It shows a level of responsibility and self-awareness," said Ms. Bethel.
Bahamas Technical and Vocational Institution (BTVI)
Captions:
HIV/AIDS Health Education Officer, Emile Lesbott, conducted pre-counseling with BTVI students who were about to take free HIV/AIDS tests during a campus-wide Know Your Status campaign.
BTVI cosmetology students visited the 'condomize booth' at the Know Your Status HIV testing event. Pins and badges strung on necklaces were distributed with the hopes that wearing them would encourage others to ask questions about condoms and safe sex.