BTVI Graduate Creates Chic Outfit For Beauty Queen
December 13, 2016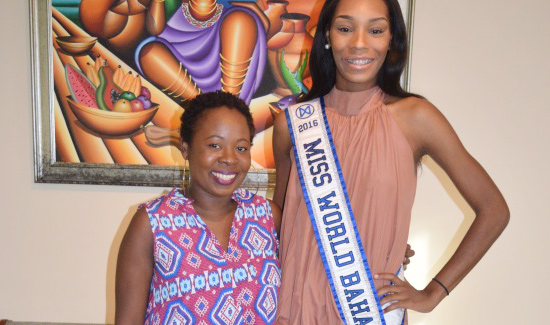 In the beauty pageant world, an unspoken competition begins before contestants ever hit the stage.  From the moment a contestant touches down at the airport of the host country, she is already being sized up. Hence, what she wears offstage should be equally as impressive.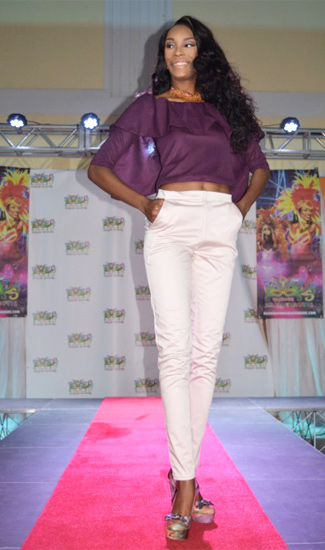 Presently, Miss World Bahamas, Ashley Hamilton is in Washington DC, where she is competing for the Miss World pageant to be held on the 18th December. She will be competing against 116 contestants. Her wardrobe and costume were unveiled by the  Miss  Bahamas  Organization (MBO) during a presentation at the Serenity Club House, Lyford Cay Road.
BTVI 2010 graduate, Myrlande Julien was one of the designers, having received the opportunity after winning MBO's Designer Showcase which was exclusively for BTVI students and graduates.
For the svelte, 6' 1" Ashley, Myrlande designed an eggplant, off-the shoulder top with a flounce in the front and accessorized by petals in the back.  And although waist-length, it could be worn lower.  The blush polish cotton pencil pants were sleek, perfectly fitting the towering beauty.
"It's exposure and says a lot (about BTVI).  It shows that if you go to BTVI and are dedicated, anything can happen," said Myrlande, who was also one of the designers for the recent AIDS Foundation's Red Dress Soiree along with BTVI instructor, Kathy Pinder.
Myrlande created Ashley's ensemble within three days and considered it an opportunity of a lifetime.
"I feel honoured.  It was a very good experience and I'm excited to have one of my outfits worn internationally," said the fashion designer who is preparing to open her own clothing store Ju Ju Season, this January, with everything designed and created by local designers.
Photos by George Ratliffe