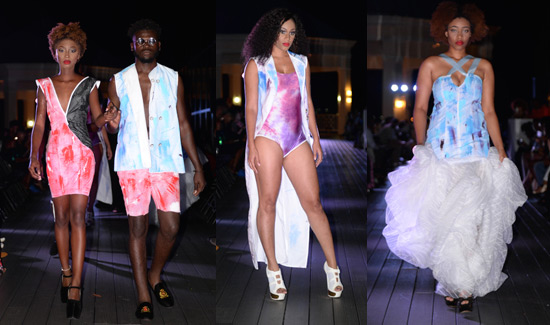 The designs on display exuded confidence and adventure. Upcoming fashion designer Delano Marc, recently hosted an intimate al fresco fashion show at the Melia Nassau Beach Resort, launching a collection that's for the bold, beautiful and artsy.
The fashion design student of the Bahamas Technical and Vocational Institute (BTVI), might be one of the new kids on the fashion scene, but already he is making waves. In 2015, he placed second in the 2015 Miss Bahamas Top Designer showcase.
However, in his solo fashion show, dubbed 'Love Letters and Poems,' Delano created delightful chaos. Frenzied styling dominated the evening as petite to full-figured models dominated the runway with cool confidence – many of them rocking natural hair with highlights. Using tie dye in blue, red, pink, purple and blue with crisp white, the splashes of vibrant shades and creativity enhanced the patterns. However, one of Marc's ensembles featured a long, gothic dress, making a statement of power and poise, drawing applause from the audience.
From turbans to formfitting and ruffled see-though dresses with plunging backs, jackets, off-the-shoulder tops, swimwear and pants, the millennial must be lauded for his effort.
"This collection came from a very deep place in my heart. It's basically me writing love letters and poems to those who push and support me. In a nutshell, it's a bit out of the box. It's different. My designs, you won't see in a store," said Delano.
Meanwhile, Delano is not just seeking exposure for himself. He believes young designers, in particular, do not get the recognition they deserve. Hence, he was key in forming the Starving Artist Committee (SAC) in 2015. As Director of Events, Delano wants to help emerging artists to showcase their abilities.
During his fashion show, hosted by the very entertaining Karressa, The Blast Queen, SAC simultaneously hosted The Next Big Thing, a modeling competition of which the winner will become the face of fashion and photography brand Vintage 91′. After sashaying down the runway and wowing the judges, winning that competition was Galy Joseph.
"I'm hoping other designers and models would want to participate in the show next year.
"Anyone with artistic qualities qualifies. We want to create a platform for them to showcase their work including art, music, drama or fashion," said Delano.
He is determined to make his mark on the local fashion scene and be the next big thing.
Bahamas Technical and Vocational Institute (BTVI)
Photos by Shawn T. Hanna