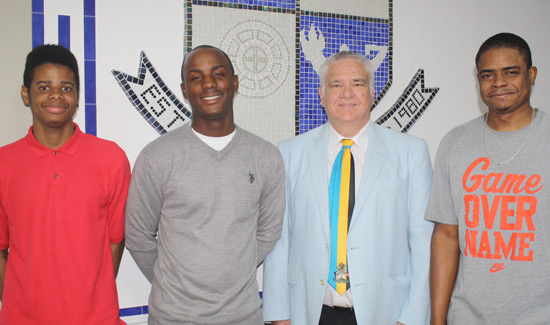 In just a matter of weeks, three students will experience the opportunity of a lifetime. Dion Mackey, Piaget Cleare and Rodney Cleare are being afforded the opportunity to study in Canada on an Emerging Leaders in the Americas Program (ELAP) scholarship.
Information Technology major, Dion Mackey – a well-known student at The Bahamas Technical and Vocational Institute (BTVI) and President of the BTVI Gaming Club – will be heading to Fanshawe College in January. He is extremely anxious to discover what Fanshawe has to offer, but he is most excited about meeting up with BTVI 2016 graduate, Gerrard Russell, who is now furthering his education at the same school.
"I'm still trying to calm down. I've been excited since last year," said Dion.
For Electrical Engineering major, Piaget Cleare, being given this opportunity to study abroad is overwhelming and he is very grateful for it. Piaget will be attending Holland College.
Rodney Cleare, also an Electrical Engineering major, is presently on a waiting list for the exchange program, but he is hopeful that he will be able to study abroad this upcoming spring. He is expected to study at Holland College.
Being a former resident of Canada, BTVI President, Dr. Robert W. Robertson, was able to give the three students great insight on what to expect with the weather and what Canada has to offer. He encouraged them to fully enjoy the experience and come back ready to encourage future exchange students. He also encouraged them to wear warm clothes.
These three young men will be continuing a program that started years ago. Last year, BTVI student Jonathan Harris-Smith also studied Information Technology at Fanshawe College. Lynderia Clarke and Renel Pierre studied Electrical Installation at Vancouver Island University and Cordelia Dean and Mystique Stevenson took the Computer Systems Technician program at Fanshawe College.
The scholarships, granted by the Canadian government provide Latin America and Caribbean students with short-term exchange opportunities at the undergraduate and graduate levels. The study abroad program, which began in 2009, requires students to return to BTVI to complete their studies following the experience.
Bahamas Technical and Vocational Institute (BTVI)