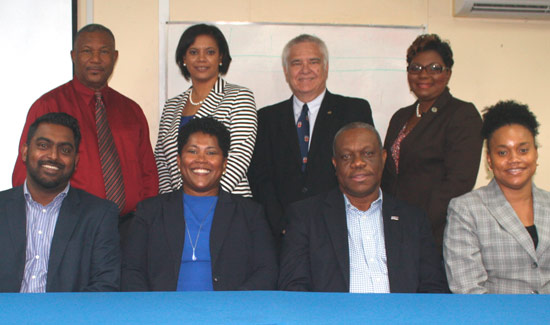 The Bahamas Technical and Vocational Institute's staff, faculty and students were recently presented with a thorough breakdown of the government's National Development Plan (NDP).
Dubbed Vision 2040, the initiative, funded by the Inter-American Development Bank (IDB), is expected to guide the policy decisions of The Bahamas up to 2040. The four pillars of the plan include governance, human capital, the economy and the environment. The plan is expected to provide answers to such challenges through sustainable, non-partisan measures that would eventually be institutionalized by law.
BTVI's President, Dr. Robert W. Robertson noted that as the country's flagship vocational and technical training institution, BTVI is poised to assist in the applicable training and skills development that would come with the NDP's implementation.
Pictured seated from left to right are: NDP consultants Kevin Surujlal and Denise Hinds-Jordan; Chairman of the NDP's Steering Committee and BTVI Chairman, Felix Stubbs and Project Officer, Daniella Pratt. Standing from left to right are: BTVI's Associate Vice President of Academic Affairs, Leroy Sumner; Associate VP, Administrative Services, Zakia Winder; Dr. Robertson and Associate VP, Fund Development, Alicia Thompson.
The Bahamas Technical and Vocational Institute
Photo by Shantique Longley