Pat's Senior Citizens Home was a flurry of excitement recently, as residents got a beauty treat from Cosmetology students of the Bahamas Technical and Vocational Institute (BTVI).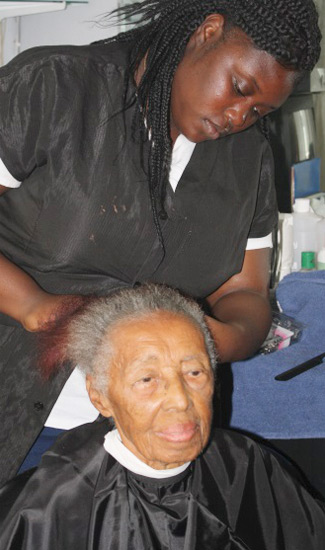 "I like working with seniors," said Kei-Anna Glinton, "I have a grandfather who I stay home with a lot, so I see this as a means of giving back to the community. It's heartwarming," said the 19-year-old.
Kei-Anna was among the 19 students of the Hair Analysis class who volunteered their service to the live-in senior citizens' home on Soldier Road. Under the watchful eyes of their instructor, Monique A. Marshall, the students gladly styled the hair of the elderly female residents and gave them manicures.
"They were here before me. I have a great grammy and she means a lot to me, so it feels good to be here because when I get old, I would want people to do it for me," said Naji Adderley.
There are just over 1,700 students enrolled in programs at BTVI's New Providence, Grand Bahama and Abaco campuses. The cosmetology program in New Providence has 57 students.
Chair of the Beauty Trades department, Donnalee Minnis, is a proponent of giving back to the community.
"The reality is, we will be old someday. What we are doing is teaching our students how to share, how to give back and say, 'Thank you.' We don't ever want the elderly to feel they are forgotten. It takes a village to raise a child and they helped to raise us," said Ms. Minnis.
The home's Director, Patricia (Pat) Moxey, was grateful for the support, stating that there is dignity in old age.
"We don't know what life has in store for us. Life has its challenges and at the end of the day, we don't know where life will take us. And you don't have to be old to be in a senior citizens' home; you may be incapacitated," said Ms. Moxey, who started the home eight years ago.
"This home is uniquely different. All of their loved ones take care of the 30 residents. They are well cared for with three meals per day and three snacks a day. We also get help from the community. I am thankful," she stated.
Meanwhile, Ms. Marshall noted that although the students were getting hands-on experience during the visit, that was not the main focus.
"It's not just about getting experience. It's deeper than that. These residents need attention and from the looks on their faces, they are loving it. Someone is taking the time to attend to them and I am honoured to be here," said Ms. Marshall.
Bahamas Technical and Vocational Institute (BTVI)
Captions:
Precious pearls, Mary Bethel (l) and Grace Roker are excited to get all dolled up by BTVI cosmetology students
Mary Bethel is relaxed as she receives a new hairdo from BTVI cosmetology student, Erinique Bullard
The royal treatment for Grace Roker, as BTVI student, Thurmika Bethel dries her hair.
Photos by Shantique Longley