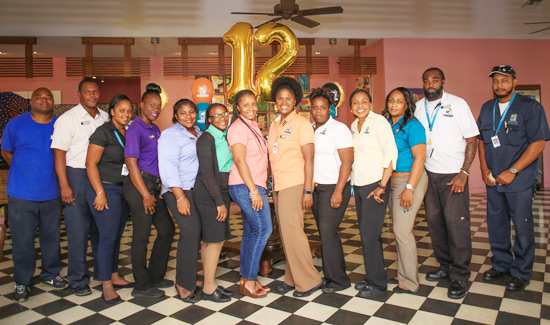 Freeport, GB, Bahamas – Six months ago, the staff at Pelican Bay proudly hoisted the Bahamian flag over Canal House and along with the wider Grand Bahama community, they began to rebuild after Hurricane Mathew. The 184-room boutique hotel suffered substantial damage but thankfully, managed to stay open and was the only hotel to do so.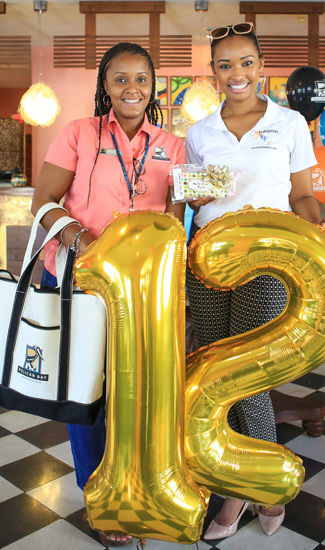 This Friday, the Pelican Bay family was very pleased to celebrate their twelfth anniversary and another successful year despite mother nature's best efforts. In a small ceremony held in the hotel's lobby the staff toasted to their continued success and gave out twelve fun gifts to hotel guests or vendors who joined them in their celebrations.
"We have worked hard to maintain our standards during a very difficult time for our island," said Magnus Alnebeck, General Manager of Pelican Bay Hotel. "My staff was exceptional in keeping our doors open, and our success is due to them and our consistent work to improve our quality of product and service."
"We are very pleased to announce that our company will now reinvest back in our hotel as we undergo over a million dollars in renovation work," he noted. "Creating rooms that maintain our island feel but offer modern amenities and technology for our tourist and business clientele."
In addition to the upgrades, the hotel recently added a spa service and is finishing up work on an in-house gym. "It's been a great year despite Hurricane Mathew," added Della Bridgewater, Operations Manager.
"Our staff has helped us fulfill our motto of being the #happiesthotel on the island and our guests have been very accommodating and supportive both during the storm and after. We are excited about the future and improving our product for Grand Bahama's success."
Barefoot Marketing
Captions:
Proud Pelican Staff
Promoted as the #happiest hotel in Grand Bahama, a variety of staff stop to celebrate 12 years of success and teamwork.
GB Tourism says Well done!
Joining the celebrations were Brooke Sherman-Grant, part of the GB Tourism team who joined the celebrations with their Air Show guests.  Brooke is pictured with Della Bridgewater, PB Operations Manager, receiving a thank you gift for support.
Photos: Alfred Anderson for Barefoot Marketing