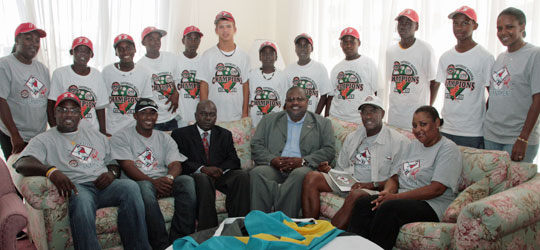 NASSAU, The Bahamas – The Freedom Farm 12-and-under baseball team's win in the finals of the Babe Ruth / Cal Ripken Southeast Regional Championship, in Lakeland, Florida, is just another reason to be proud of the accomplishments and talents of young Bahamian athletes, Minister of Youth, Sports and Culture the Hon. Charles Maynard said, on August 5, 2010.
"We are very proud of you for your major accomplishment," Minister Maynard said to team members, coaches and other stakeholders, at a press conference in the VIP Lounge of Lynden Pindling International Airport.
"You made history for your age group for The Bahamas and we are looking forward to your next step and I have been reliably informed that it will cost some money for that next step and, so, I want to officially endorse, on behalf of the Ministry, our support for the team and to reach out to the corporate community for help and assistance."
The next step for the team is the World Series in Wilson County, North Carolina, where they will compete against nine other regional champions August 12-19, 2010.
They will leave for the event on August 11.
Minister Maynard added that in the past weeks there have been a number of Bahamians representing their country at various levels and sports and the Government has done as much as it can to assist all the teams and, therefore, it is important for the private sector to partner in continuing to give young Bahamians, especially the members of the Freedom Farm team, their "opportunity to excel on the global stage."
"We know that they could do it," Minister Maynard said.
"They have the talent, they have consistently been working hard in the Freedom Farm organisation and we are looking forward to more great things coming from them.
"I think that Freedom Farm has proven itself, over the last few years, in terms of producing Bahamians who can play at the top levels.
The Bahamas used to be famous for that in baseball and through the vision of Mr. Greg Burrows (Sr.)
and his team, I think we are now re-kindling that spirit that we used to have in The Bahamas.
"I want to congratulate you and I want to pledge my Ministry's full support to what you are doing and we will do whatever we can to assist you as you move forward with this group and other teams you have competing," Minister Maynard said to Mr. Burrows. "Congratulations on a job well done to all of you."
By Eric Rose
Bahamas Information Services