While Obama Preaches Sacrifice, His Family Frolics in Spain
August 8, 2010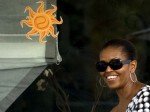 AS THE US economy endures high unemployment and a jittery stock market, President Barack Obama has preached sacrifice and fiscal discipline. But the pictures coming out of a sun-splashed Spanish resort may be sending a different message.
First lady Michelle Obama is in the midst of a five-day trip to a luxury resort along with a handful of friends, her younger daughter, aides and Secret Service. Her office said the Obamas would pay for personal expenses, but would not reveal the taxpayer cost for the government employees.
This poignant in the Bahamas in light of the criticism that Prime minister Hubert Ingraham has received for also taking a foreign vacation during tough times.