Temporary Close For Wyndham Resort
August 23, 2010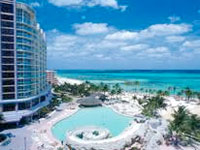 For the second year in a row the Wyndham Nassau Resort and Crystal Palace Casino will be closing temporarily during the slow tourism season.
Robert Sands, Senior Vice-president of External and Government Affairs at Baha Mar said that the temporary closing will affect about 1,200 Bahamians but that it is hoped the Wyndham will benefit from the cut in losses.
"While we need not meet 100 percent of our goal,we did achieve major savings during that period, and we do hope to do even better this year because we'll be able to manage the process better," he said.
"Last year we were closed for eight weeks, this year it will be six weeks."
The resort will officially close today, Monday, August 23 with the last of the guests leaving this afternoon. The Wyndham is expected to reopen on October 7.
Mr. Sands said that the company has worked it out so that employees who would be affected are taking their vacation time during the closure to cause as little economic impact to them as possible.