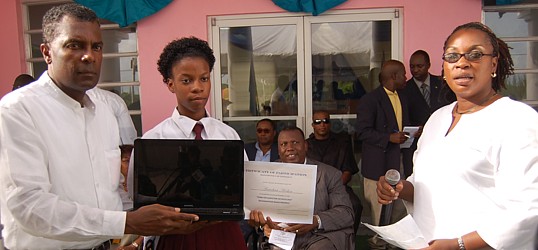 Governor General Sir Arthur Foulkes and Lady Foulkes made an official visit to Mangrove Cay, Andros, last week. It was timed to coincide with the presentation ceremony for the "Crabs for Computers Initiative".
The initiative was the brainchild of Deputy Family Island Administrator Gilbert Kemp who organised a group of school children in Mangrove Cay to raise money for the purchase of lap top computers by catching crabs and selling them in Nassau.
The sale attracted considerable attention from residents of the capital who turned up at R. M. Bailey Park to buy crabs in lots of a dozen.  Sir Arthur and Lady Foulkes were among those who went to the park for the sale and demonstration of crab-catching.
The ceremony for the presentation of 20 new laptop computers to the proud students took place at the Mangrove Cay Administration Complex in Little Harbour last Thursday.  It was attended by South Andros Member of Parliament Picewell Forbes, Fox Hill MP Fred Mitchell, former MP Darrell Rolle, Government officials for the South Andros District and leading citizens of Mangrove Cay.
Sir Arthur, principal speaker at the celebratory event, said that the "Crabs for Computers" initiative comprised much more than a single lesson.
"It is a curriculum of hope with lessons in nation-building, entrepreneurship, goal-setting and fortitude.  'Crabs for Computers' represents the essence of experiential education, combining real life experience with academics and character-building.  These fine young Androsians have learned lessons in critical thinking, business and economics, as well as discipline, teamwork and professionalism."
Sir Arthur also proffered advice to the students on the use of modern information technology:
"Like any technology, these computers can be used responsibly or recklessly.  A computer is a means to an end.  It is not an end in itself.  Use your computers to foster personal success as well as the advancement of this community and the common good of our Bahamas.
"Even as you utilise these computers to connect to a world wide web, never forget your native roots.  While fibre optic cables may connect you to the world, remembering where your navel string is buried will keep you grounded. … Moreover, the values of civility and respect, good manners and restraint are to be practised at home and on the internet."
Sir Arthur and Lady Foulkes were guests of honour at a banquet attended by district officials and leading citizens of Mangrove Cay.  They were also entertained by the school band, choir and other performers during a visit to the Mangrove Cay High School.
On a visit to the Government clinic, Sir Arthur observed the ruins of several old buildings and said it was likely that his father, Dr. William A. Foulkes, ministered to the medical needs of Mangrove Cay residents from one of those buildings some 80 years ago.
BIS Photos/Ulric Woodside