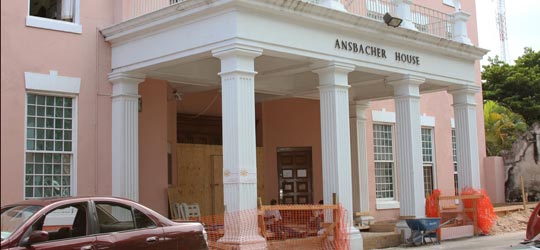 Nassau, Bahamas – Renovations to the Ansbacher building are in progress. When completed the ground floor of the East Street and Bank Lane building will accommodate two courts, judges' chambers, a jury room and ancillary accommodations.
On September 1, the Ministry of Works and the Office of the Attorney General signed a $2.3 million contract with Sunco Builders to cover costs for renovating the ground floor.  The scope of the renovations includes removing and rebuilding interior partitions, ceilings, flooring, and washrooms and refurbishing windows.
The installation of new electrical panels and an air conditioning system are also included. The project is particularly important because it is part of the Government's plans to organise the justice system in a central location.
The completed work will result in a total of nine new criminal and civil courts. The renovations are expected to be completed within 42 weeks.
Bahamas Information Services