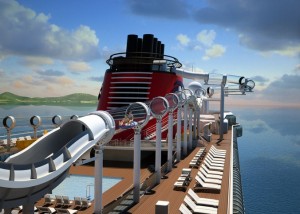 Even though it is not due to debut on the cruise circuit until 2012, Disney has revealed that keen cruisers can now start to book holidays aboard their new ship Fantasy.
The 4,000 guest liner is due to sail from Port Canaveral in 18 months time, and will bring Disney cruise enthusiasts a new alternative to the firm's current fleet.
Embarking on its maiden voyage on 7th April 2012, Disney Fantasy will be sailing to the Caribbean for a seven night voyage. Whilst its sister ship, Disney Dream, will arrive at the beginning of 2011, Fantasy is still being finished.
Including 1,250 staterooms, entertainment, children's areas, and fine dining, Disney is also bringing a range of immersive video games. In addition, an AquaDuck water coaster will provide entertainment with slides over open ocean water and a 4-deck plummet.
With two new liners due to debut for the company, Disney's passenger capacity it set to more than double. Offering a wider number of options for individuals taking cruise holidays, Fantasy will offer a range of getaways to the Caribbean, including stops at Disney's private Castaway Cay Island. Meanwhile The Dream, which arrives on 26th January, will take passengers on three, four, and five night voyages visiting the Bahamas. And with Port Canaveral currently developing a brand new terminate to accommodate the new ships; cruisers will have an exciting experience from the very outset.