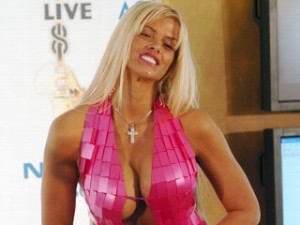 Anna Nicole Smith's physciatrist, Dr. Khristine Eroshevich and Howard Strern, her creepy boyfriend/stalker were convicted of crimes revolving around the death of the dazzlingly ditzy reality star and former Playboy model.
Smith's doctor, Sandeep Kapoor, was acquitted on all counts he faced.
The defendants were charged with conspiracy, excessive prescribing of opiates and sedatives to an addict, and fraudulently obtaining drugs by using false names.
Stern was found guilty of giving false names and acting by fraud to obtain prescriptions, The Associated Press reported. Eroshevich also was convicted of unlawfully prescribing Vicodin by fraud.
It was also revealed that Ms Smith may have traded sex for drugs with her doctors.
The judge in the case told the jury at the start of the trial that they were not there to determine the cause of Smith's death, but prosecutors said it could have been avoided if she hadn't been recklessly provided a steady stream of pills.
Stern and Smith created mayhem in The Bahamas, allegedly bribing government officials and helping cover up the death of Anna Nicole's son Daniel, who died mysteriously as he slept in a chair at the hospital, while visiting his mother after the birth of her baby daughter Dannielynn.