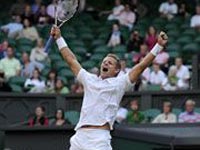 Mark Knowles is pleased to announce that plans are well underway for his annual Mark Knowles Celebrity Tennis Invitational. This year the tournament will be held December 2nd – 5th 2010 at the Atlantis Resort & Casino and other locations.
This year, on our tenth anniversary, we are also very pleased to announce that a new sponsor, MDC Partners, an international Marketing & Communications Network, will join with our other sponsors to give us their support.  Our major sponsors to date include: Atlantis Resort & Casino, Lombard Odier Darier Hentsch Private Bank & Trust;  Pictet Bank & Trust Ltd; Serenity Point, Abaco; The Balmoral; The Bahamas Ministry of Tourism; American Airlines;  The Bank of the Bahamas, Everkey Global Fund, Templeton Global Advisors, Odyssey Aviation, The Bahamas Weekly, H3O and The Ministry of Youth Sports & Culture.
This event was started by Mark in 2001 to raise money specifically for local children's charities and just 4 tennis professionals competed in this first event.  Since then it has grown by leaps and bounds and the donations to these children's charities has now reached the very notable milestone figure of $500,000.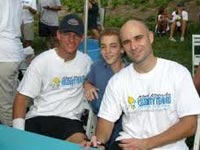 Since that first year many more famous players have been attracted and have come to enjoy visiting The Bahamas and compete in the event.  These include: Andre Agassi, James Blake, Bob & Mike Bryan, Jim Courier, Jennifer Capriati, Robbie Ginepri, Anna-Lena Groenefeld, Fred Stolle and Nicole Vaidisova.  On this the 10th Anniversary, the response from the touring tennis professionals has once again been stupendous and details of the names of these and other special guests will be released shortly.
The format for the tournament includes a Pro/Am doubles tournament for Platinum sponsors, a Pro Exhibition match and there will also be an exciting opportunity for our top Bahamian juniors to interact on court with the visiting professionals.
There are still a few sponsorship opportunities available and interested parties should contact Vicky Andrews at 242-357-9670.