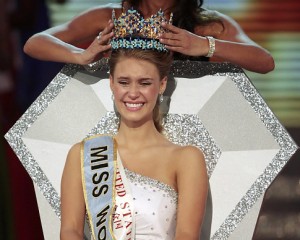 Miss United States, Alexandria Mills, has won the Miss World crown for 2010, defeating more than 100 other hopefuls at a glittering ceremony in southern China.
The blonde Mills, 18, wept as outgoing Miss World Kaiane Aldorino of Gibraltar placed the tiara on her head and led her to a diamond-shaped throne, in honour of the pageant's 60th anniversary.
Botswana's Emma Wareus was second, and Venezuela's Adriana Vasini placed third in the competition.
Top 5 contenders for Miss World:
Venezuela
Ireland
China PR
United States
Botswana
The top 20 Miss World finalists:
Paraguay: Egni Eckert
St Lucia: Aiasha Gustave
Netherlands: Desiree Berg
France: Virginie Dechenaud
Canada: Denise Garrido
Bahamas: Braneka Bassett
Colombia: Laura Restrepo
South Africa: Nicole Flint
Thailand: Yuwaret Rueangsri
Mongolia: Sarnai Amar
Romania: Lavinia Postolache
Italy: Giada Pezzaioli
United States: Alexandria Mills
Germany: Susanna Kobylinski
China Pr: Tang Xiao
Botswana: Emma Wareus
French Polynesia: Mihilani Teixeira
Scotland: Nicola Mimnagh
Venezuela: Adriana Vasini
Russia: Irina Sharipova