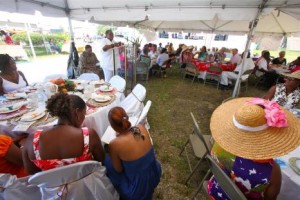 NASSAU, The Bahamas – The essence of native teas, drinks and sweets were captured during the Bahamas Agricultural and Industrial Corporation Sixth Gala Tea Party on Sunday, October 31, 2010 at Arawak Cay.
The event, held in conjunction with the Ministry of Tourism and Aviation and the Ministry of Agriculture and Marine Resources, closed out the Bahamas Agricultural and Industrial Corporation 13th Annual BahamArts Festival 2010.
Mrs. Robin Symonette, wife of Deputy Prime Minister and Minister of Foreign Affairs and Immigration the Hon Brent Symonette, said the event was a way of celebrating the creative achievements of local artisans.
She said the theme "Endless Possibilities" was apt for the occasion as authentically Bahamian-made handicraft as an industry, continues to establish its niche in the economy.
"One area that we have yet to exploit to any significant degree is the legendary remedy of our Bahamian teas and other native drinks," she said.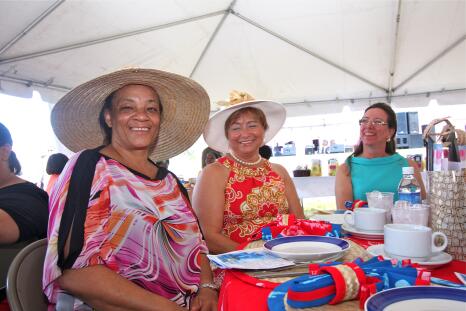 Mrs. Symonette acknowledged that for those who live in the Family Islands, teas, drinks and other remedies made from the leaves and or barks of various plants, were all that were available to them in many instances.
Hence, plants like strong bark, five fingers, hard leaf, sour leaf, fever grass, braziletto, aloes, cerasee and gale o' wind, amongst others, were quite familiar, she said, adding that the older generation had a bush remedy for the body's every need.
"In today's age, it seems that we all go straight to the doctor or the pharmacy for a cure. Ought we not to revisit the purported effectiveness of Bahamian bush teas and other drinks?" she asked.
Mrs. Symonette credited historians, authors and gardeners like Leslie Higgs, Martha Hanna-Smith, Sylvia Larrimore-Crawford and others for continuing to inspire a multitude of health conscious Bahamians from all walks of life, through their knowledge.
"Hence, there is a great possibility for an industry here. There must be methods out there somewhere. Other countries are doing it and their various brands can be found in our food stores. We do not need to reinvent the wheel." She said.
Mrs. Symonette commended the Handicraft Development and Marketing Department of BAIC for the putting on the annual event.
A highlight of the tea party was the display of tables decorated using locally-made products. The five entrants were judged on originality, creativity, use of local products and setting.  The winner was Junkanoo Table, with 227 points; second, USA Table with 197 points; third, Fish Table, with 173 points; fourth, White Table with 155 points and fifth, Sea Shells Table with 103 points.
Patrons were entertained through poetry reading by the C C Sweeting Drama Club, a dance by Latoya Lockhart, Miss Cultural Bahamas 2010, and Tea Talk by Martha Smith.
By Lindsay Thompson
Bahamas Information Services
BIS Photos by Kris Ingraham