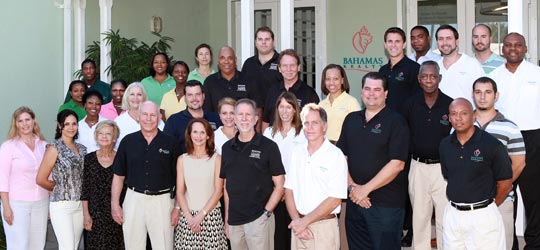 Two of The Bahamas' most established real estate firms, Bahamas Realty and Paradise Sales & Rentals, announced today they are joining forces effective November 1.
"We are literally and figuratively marrying the two companies," said Robin Brownrigg, a director and president of Bahamas Realty. Brownrigg's wife, Andrea, founded Paradise Sales & Rentals in 1992 and will now join her husband, becoming a director of the expanded Bahamas Realty. "People always ask me if Robin and I compete," says Andrea Brownrigg, "and I always explain we don't compete. We cooperate — as we have on many of our rentals on Paradise Island. We have been talking about this for years and it just makes sense to operate out of the same office after all this time."
The Paradise Sales & Rentals sales force, including three brokers and one agent, will operate from Bahamas Realty headquarters, a pastel green and white trimmed Bahamian residence-turned-office building on expansive property along East Bay Street across from Montagu Bay. Bahamas Realty also has affiliates throughout the Family Islands.
"The merger is a good business decision, adding strength to both partners," said Larry Roberts, Bahamas Realty CEO and two-time president of the Bahamas Real Estate Association. "Andrea and her team bring a wealth of knowledge and experience of Paradise Island having operated as the only real estate company on the island, handling homes, condos, time share, partial ownership residences and property of every price point including specialization in Ocean Club Estates. And with the economy in its current state, uniting the two companies is also about economies of scale."
This is not the first time that Bahamas Realty has brought another firm under its umbrella. The company that celebrated its 60th year in 2009 was itself a merger between the firm Roberts' father, Bert Roberts founded, Bert L. Roberts Real Estate, and Caribbean Management Ltd., then owned by Robin Brownrigg and Gordon Wilde. The amalgamation of the two businesses combined the appraisal expertise of Robin Brownrigg and the financial expertise of Gordon Wilde with the sales skills of Roberts, moving beyond what was the meat and potatoes of real estate in those days, buying and selling, to the broader menu of planning, leasing and management of commercial, resort, residential and development properties.
That idea caught on among commercial landlords and enterprises relieved to turn the day-to-day details of maintaining leased space over to professionals who made it their business to deal with everything from elevators to rent collection, awnings to air-conditioning, partitions to parking lots. That evolved into a highly successful commercial division affiliated with one of the world's leading commercial real estate management companies, CB Richard Ellis.
Bahamas Realty continued to grow, marking one industry milestone after another — the first real estate firm in the country to have a website, the major promoter of establishing a Multiple Listing Service, the first firm to have all of its property appraisers' work accepted by all the banks and the government of The Bahamas.
"Bahamas Realty has always been the number one go-to company for us," said Andrea Brownrigg. "When we wanted more international networking, it was Bahamas Realty we went to and I am especially excited about working with Larry Roberts who is one of the most experienced realtors in our country."
For Bahamas Realty, it's Andrea's team that adds Paradise Island value. As she says, "In 26 years, I have either marketed, rented, sold or managed nearly every property on Paradise Island." It's also been home to her and husband, Robin, for 23 years.  Andrea's knowledge of P.I. stretches back to the days when her father, Godfrey "Tippy" Lightbourn, Cavalier Construction's chairman, built most of the island's hotels from the old Flagler, Britannia and Grand Hotel to the Ocean Club and condos including Harbour Breeze, Paradise Island Beach Club and Harbourside I and II.
One thing both teams of realty experts agree on is the staying power of Paradise Island as real estate investments. "As we've seen with the recent unsolicited offers, the value of Paradise Island is recognised internationally. It's Kerzner's flagship property," says Roberts. The Brownriggs concur. "People ask me, 'How can you live on Paradise Island?'" says Andrea. "I say it's like living in a fantasyland – people are at their happiest in a vacation environment."
The union of Bahamas Realty and Paradise Sales & Rentals, which will eventually operate under the Bahamas Realty banner, is a marriage of more than one family. Sara Parker and her daughter-in-law, Pyper Parker, are brokers at Bahamas Realty. Daughter Chandra Parker-McCallum is a broker at Paradise Sales & Rentals.
"This is a move that strengthens all of us," says Robin Brownrigg. "Andrea is the most knowledgeable broker on Paradise Island, without question, and brings enormous depth from her having lived, worked and personally invested in that market for many years."
Source: Diane Phillips and Associates