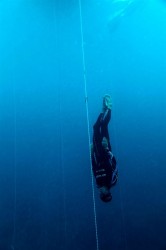 William Trubridge, a New Zealand-based freediver, has become the first person to dive to 100m using only his hands and feet for propulsion.
Trubridge reached the historic depth while diving Dean's Blue Hole on Long Island in the Bahamas.
It took three attempts before success was achieved, with the first effort disqualified on a technicality and the second abandoned after undesirable air movement.
The dive attempt, called Project Hector, was dedicated to the Hector's Dolphin, a species that is threatened with extinction.
The 100m mark was first reached in 1980 by Jacques Mayol, though he used a weighted sled to descend and an inflated lift bag to return.