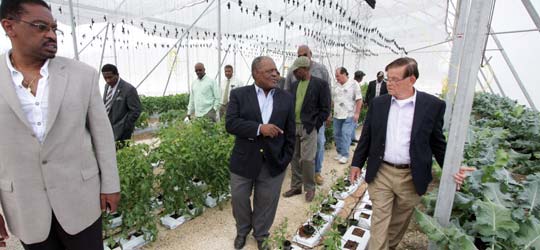 Prime Minister Hubert A Ingraham and a ministerial team toured North Andros agriculture projects last weekend.
"The Prime Minister was very pleased with the progress being made," said  Edison M Key, executive chairman of Bahamas Agricultural and Industrial Corporation (BAIC), which hosted the event.
"We are on the right track."
Mr Ingraham was accompanied by ministers Larry Cartwright, Dr Hubert Minnis, Earl Deveaux, Phenton Neymour, and Desmond Bannister.  Also present were North Andros and the Berry Islands Member of Parliament Vincent Peet, and opposition Member of Parliament Shane Gibson.
They were shown greenhouses in production at the agri-industrial park, fields of winter crop, the North Andros High School agriculture project, the packing house system, and the quality livestock being made available to breeders.  During a meeting between North Andros producers and wholesalers, Mr Key called for "frank and honest negotiations."
"I must say how grateful we are to buyers who have expressed overwhelming support for Bahamian products," he said.
"It is because of you we know that our labour is not in vain.  "As training is very important we are putting in place programmes to teach our people what is needed to move the agricultural sector forward.
"To that end, we have brought together food producers from Exuma, Eleuthera, New Providence, Abaco, Grand Bahama and Andros in the first of a series of workshops on greenhouse and drip fertigation technologies.
"It was a huge success. Farmers were hungry for information about new and innovative, yet safe ways of increasing production."