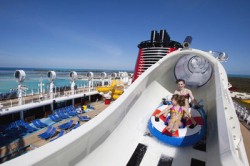 If you've already sailed with the Disney Cruise Line, you already know all about the outstanding entertainment, service, and food for which the line is known—not to mention Castaway Cay, Disney's private island in the Bahamas.
So I'll skip the DCL benefits that are already well-known to Castaway Club members – Disney's designation for those who have already been on a Disney cruise – and give you 10 reasons why repeat Disney cruisers will love its new Disney Dream cruise ship.
Stretching 765 feet in length and spanning four decks in height, AquaDuck uses powerful water blasters to propel guests around the perimeter of the ship's top deck.
Disney Cruise Line introduces a cruise industry innovation on the Disney Dream with the debut of AquaDuck, the first-ever shipboard water coaster. Guests aboard the ship can get swept away on the exhilarating flume ride that features twists, turns, drops, acceleration and river rapids. Stretching 765 feet in length and spanning four decks in height, AquaDuck uses powerful water blasters to propel guests around the perimeter of the ship's top deck. (Jimmy DeFlippo, photographer)