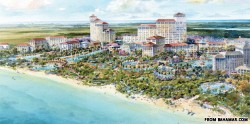 The groundbreaking ceremony for the 1,000-acre Baha Mar resort was held in Nassau, The Bahamas, yesterday.  The event was attended by numerous ministers of The Bahamas and executives of the Chinese companies that are funding and helping to build it.
The locally-based Izmirlian family, billionaire investors who live in the wealthy enclave of Lyford Cay, formed the development firm spearheading the project. They have extensive financial and real estate investments worldwide, including the More London development, which owns City Hall, home of the city's mayor, in London.
China is funding the US$3.4 billion gaming and entertainment resort that is being billed as the largest of its kind in the Caribbean.
The 1,000-acre Baha Mar resort is slated to open in late 2014.
The showpiece of the project will be a 100,000 square-foot casino, which its devlopers claim will be the Caribbean's largest. The resort will also feature a 50,000-square foot upscale retail strip, an 18-hole Jack Nicklaus Signature championship golf course and a 200,000 square foot convention center.
A 20-acre water park and three spas are being planned on the Cable Beach strip.
Hotels to be managed by Hyatt Hotels & Resorts, Rosewood Hotels & Resorts, Morgans Hotel Group, plus a yet to be named casino partner will be constructed on 3,000 feet of pristine beachfront property, known as the Bahamian Riviera.
The Export-Import Bank of China will help fund the massive project, and the China State Construction Engineering Company will build it. It will be the largest project to be built by Chinese companies outside China, according to the Wall Street Journal.
China's ambassador to the Bahamas hailed the groundbreaking of the mega-resort project as "another milestone" in the two countries' relationship and suggested it could herald further Chinese investment in the island nation.
U.S. diplomats have expressed concerns about whether the project, being financed and built by two Chinese government-owned entities, could make the Bahamian government beholden to China.
Developers say that the Baha Mar resort is expected to create 12,000 new jobs in The Bahamas and contribute to a 10 percent spike in the Bahamian gross domestic product. Tourism currently accounts for 60 percent of the Bahamas' GDP.