India Negotiating To Build IT Centre In The Bahamas
February 14, 2011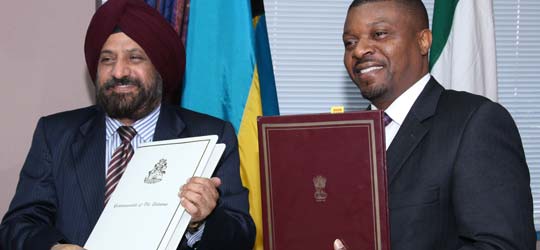 The Indian government wants to construct an information technology centre for Bahamians.
This was confirmed by India's High Commissioner to The Bahamas and Jamaica, Mohinder S. Grover.
He was in Nassau last weekend for the signing of a Tax Information Exchange Agreement (TIEA) between The Bahamas and India.
Mr. Grover was accompanied by State Bank of India officials Vikas Chandra, chief executive officer, and Vijay Panda, manager.
Minister of State in the Ministry of Finance, Zhivargo Laing, who signed on behalf of The Bahamas, lauded India's contribution to the Bahamian society.
Mr. Grover said the project will begin when a formal agreement is in place. A memorandum of understanding is being worked on.
The centre will utilise Indian hardware and software, "to train hundreds of Bahamian students so that they can get skills in information technology and contribute to the development of their country," Mr. Grover said.
Given The Bahamas' push toward e-government and using technology to drive economic growth and development, said Minister Laing, "an IT centre would be a marvelous development.
"India is very well accomplished in information technology and having the benefit of their expertise to help drive training and development for people in that area would be an immeasurable contribution. I absolutely look forward to the evolution of that."
A similar information technology centre was established in Jamaica. The Minister of Education has been invited to tour it to determine whether it can be adapted or modified to suit the objectives of The Bahamas.
During this visit Mr. Grover met with officials who have been tasked with working out the requirements of a curriculum "so that we can harness the full potential and benefit of this proposed information technology centre."
The tax information exchange agreement with India was the 24th signed by The Bahamas and the third with a major Asian nation.
Mr Laing hailed India, the world's largest democracy, as "one of the emerging giants on the global economic landscape."
Both countries are active participants in the Organisation for Economic Co-operation and Development (OECD) Global Forum on Transparency and Tax Information Exchange and its peer review committee.
"The involvement of both our governments in the international tax co-operation work of the UN and the OECD, as well as the conclusion of this TIEA," said Mr. Laing, "further demonstrates the mutual commitment we share for the effective implementation of accepted international standards for financial regulation and cross-border co-operation.
"The Government is confident that the continued expansion of its tax cooperation network further enhances The Bahamas' position as a choice international commercial centre in which, and from which, to conduct business."
Mr. Grover said the TIEA will be "a springboard for further economic cooperation, it will further facilitate economic interaction, and it will enable us to explore more avenues for cooperation."
By Gladstone Thurston
Bahamas Information Services