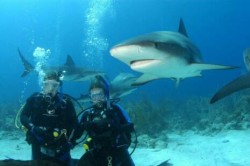 Stuart Cove's Dive Bahamas in Nassau, one of the largest and most visited SCUBA destinations in the world, is pleased to announce the certification of several new Bahamian Dive Instructors.
In an effort to help local Bahamians, and offer careers for local countrymen, Stuart Cove's Dive Bahamas, working with Patrick Hammer of Scuba Emporium, Chicago, IL, in conjunction with Karen Erickson from the non-profit Ralph Erickson Educational Foundation, and are proud to have helped create eight new PADI Open Water Scuba instructors.
The PADI Instructor training program was provided free of charge by a joint effort of Mr. Hammer and Ms. Erickson, via the Foundation, Stuart Cove's Dive Bahamas in Nassau, and Mr. James Morgan at the Professional Association of Diving Instructors (PADI).
Mr. Cove speaks about this great accomplishment of the Bahamian candidates: "I am very proud we can participate in a program like this that truly offers Bahamians a sustainable and viable career within tourism. This is our chance to 'give back' and both Michelle and I are proud of what we have accomplished with the recent Instructor Training Program. Our hope is that Bahamian youth will see there is a life and opportunity in diving, and that these new instructors will take this chance and learn the business, and maybe someday, open dive centers of their own in the islands of the Bahamas. The generosity shown by what Pat and Karen did, with the help of PADI and the Ralph Erickson Foundation will be forever remembered by these candidates."
The 10-day intensive learning experience included hundreds of hours of preparation, plus hours in the ocean, all-leading up to an extensive two-day certification process. Many of the students even completed their divemaster courses as well at the facility. Thanks to PADI Course Directors Patrick Hammer and Karen Erickson, the Bahamas has new eight PADI dive instructors, already employed at Stuart Cove's Dive Bahamas and Blue Adventures at Atlantis.
Candidates that participated in this instructor training program included Rashawn Rigby, Rudy Ferguson, Roberto Thomas, Dominee Gallagher, Radina Nichols, Kathryn Catton, Karen Evans, Nathan Jones, Ellison Gomez, Terrance Evans, Ullin Saunders and Christiano Basten. The program was assisted by Rich Carr and Hayley-Jo Lean, Stuart Cove's Dive Bahamas IDC Staff Instructors.
Stuart Cove's Dive Bahamas is one of the largest dive centers in the Caribbean and Bahamas, and offers daily scuba diving excursions, as well as snorkeling and one-man SUB experiences.