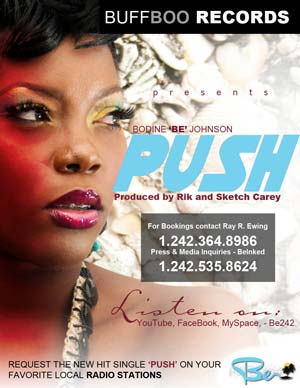 Bodine 'Be' Johnson releases the newest single from forthcoming 'The BeComing' album called PUSH.  The motivational single was produced by Rik Carey and Sketch Carey two of the most talented young producers in The Bahamas.
Continuing the theme of Bahamian sounds, visuals and writing, Bodine's soul-searching lyrics represent the determination and drive of every person with a desire to let their talents show and pursue their dreams despite the challenges they face.
Bodine says, "This song is the personification of the place that I am in my life right now.  I remember doing things because I felt it was what others wanted to do.  Then there came a point where I HAD to be me."
"PUSH" with its powerful images and its earnest delivery tells the story of Bodine's drive to success.
"I could not hope for anything other than people to see themselves in these verses. I want young men and women including those with disabilities and exceptionalities and those with health issues to use these words as inspiration and a reminder that for anything to come to fruition, they have to "PUSH".