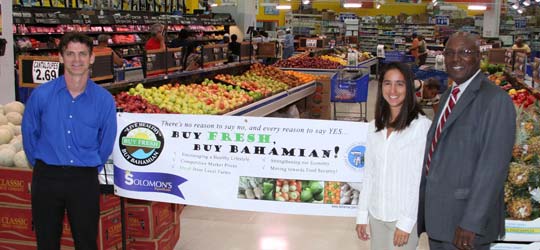 Solomon's SuperCentre has bought into the 'Buy Fresh, Buy Bahamian' programme.
"The products are there the quality is there, and as the largest food store on the island, we feel it is our obligation to help move them," said Gavin Watchorn, Solomon's Group President and CEO.
"Our customers are very pleased. A lot of them are just not aware that such quality products are grown in The Bahamas. They have responded very well."
An initiative of Bahamas Agricultural and Industrial Corporation (BAIC), the 'Buy Fresh, Buy Bahamian' programme offers easier access to a wider variety of Bahamian agriculture produce.
Towards this end, BAIC hosts a market information systems database on its web site at www.baic.gov.bs.
It provides regular assessments of the availability of meats, fruits, vegetables and other food products throughout the islands.
Photographs of produce in the field accompany the data indicating progress on a weekly basis thereby ensuring a wide distribution of up-to-date information.
"The buyers are very relieved," said BAIC Agriculture Marketing Officer, Amanda Wells. "This information makes it easier for them to access Bahamian products.
"The information is consistent and thorough. All of the products are quality checked. The prices are competitive with the market. The result has been organisation and ease for the buyers."
She insisted that, Bahamian produce coming directly from the field to the market is fresher and unlike the imports, there are no preservatives and other chemical additives.
Mr. Watchorn said the programme was very important.
"We struggle with a large import bill for food every year and it is a shame that we do that when we have such wonderful products that are grown in The Bahamas that a lot of people don't know about," he said.
"There are lots of great farmers throughout the islands who are growing some great fruit and vegetables and herbs. We feel that as we have the best produce department on the island we need to be the leaders in promoting Bahamian produce to our customers.
"We have many thousands of people come through our store each week and we feel we have a great opportunity to expose those customers to such great produce that Bahamian farmers are growing."
He commended the Ministry of Agriculture and BAIC for "doing a great job" in promoting Bahamian agriculture.
"If you can buy it here and support Bahamians, why not?" he added.
Marketing trends are pointing to more onions, melons, pumpkins, peppers, mangoes, sour sops and pineapples.
"The response has been very positive," said Miss Wells.
By Gladstone Thurston
Bahamas Information Services