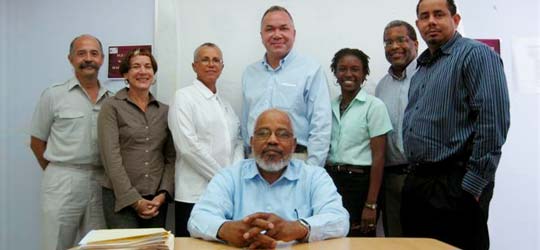 At its meeting held May 20, 2010  the Academic Board of the University of Technology, Jamaica, approved the appointment of Architect Jackson Burnside as a voting member of the Caribbean School of Architecture Course Advisory Board. The appointment was made for three years with effect from June 30, 2011 to June 29, 2013. At the most recent meetings held in Jamaica, April 6th-8th, 2011, Burnside was appointed Chairman of the Board.
The Advisory Boards play an important role in the education process of the individual schools they serve and are a critical source of information from the private/ professional sectors, industries and the wider region. Each Board is empowered to provide guidance to the Faculty and Administration of the School to assist in ensuring that the courses remain current and relevant.
The Caribbean School of Architecture (CSA) is one of two schools in the Faculty of the Built Environment (FOBE) of the University of Technology. It was established in 1988 on behalf of the English-speaking independent states of the Caribbean. It was mandated to provide both pre-professional and professional degrees in Architecture. The other Is the School of Building and Land Management (SBLM) which includes allied disciplines of quantity surveying, land surveying, urban and regional planning, land valuation, construction engineering  and construction management.
The CSA, as an architectural training centre, is committed to the investigation of the role of architecture and architects within the social and economic structure of the Caribbean and beyond. To achieve this, the school has developed a strong research base and has established links across the language barriers of the region. Many architects and professional organizations have given much of their time, expertise and commitment to the CSA and remain active in the school's development.
The Commonwealth Association of Architects (CAA) is mandated as the international validating body for the Bachelor of Arts in Architectural Studies (B.A.A.S.) and the Master of Architecture (M.Arch) degrees. Both degrees were last validated unconditionally in January 2006. Both programmes are also accredited by the University Council of Jamaica (UCJ) and are due for re-validation and accreditation at the close of 2011.
Mr. Burnside has served at the school since its inception, at different times, as a Visiting Tutor, and as an External Examiner. Burnside admits that he is flattered and most proud of this most recent appointment as it demonstrates the confidence that this leading institution has shown in his ability to understand and contribute to the on-going development of the region, generally, and the Caribbean School of Architecture in particular.
Source: Doongalik Studios